By LAURA LOREK
Founder of Silicon Hills News
"Sweat equity is the best startup capital" – Mark Cuban
A banner bearing Mark Cuban's quote hung on the wall at Rackspace's event center Thursday as it hosted its third annual StartupBus event featuring teams from all over the country and Mexico.
All of the StartupBus participants riding on the eight buses for the past 72 hours put in plenty of sweat equity.
They arrived at Rackspace ready to pitch their startups. Some of them had working prototypes, apps and websites ready to go and a few already had customers. Rackspace hosted working sessions, semi-finals, finals and a mini-conference.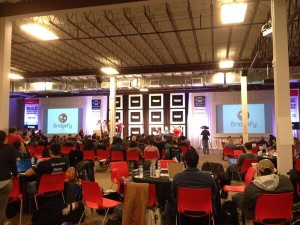 The conference featured talks by Guy Kawasaki, Elizabeth McBride, an intellectual property attorney, Robert Scoble with Rackspace and Michael Johnstone from Mark Cuban Cos.
StartupBus, a competition that started in 2010 with one bus headed from San Francisco to SXSW. It has since grown nationwide and has branched out internationally.
Smarthost, an android app that aggregates and analyzes the market for short-term housing rentals on sites like AirBnb and HomeAway, won the StartupBus competition. The five person team met on the New York City bus and came up with the idea and built and deployed it within the 72 hours, said David Redding, the Android developer.
"It's live in the Google Play store right now," he said.
As the winner, this year, SmartHost has the option of spending three months at the StartupBus house in San Francisco further developing its product. Redding said all the team members have jobs and they'll meet later to consider what they plan to do.
Bridgefy, a four-person team out of Mexico City, won runner up in the competition. Bridgefy created an Android app that allows people to chat privately without an Internet connection, said Jorge Rios, with the team. He said the team plans to seek investment and continue to develop its product.