By LAURA LOREK
Founder of Silicon Hills News
Want to see some of the best and brightest young minds in our country in action?
Go to the Henry B. Gonzalez Convention Center Saturday for the finals of the
FIRST Robotics Super Regional Championship,
a three-day robotics competition with more than 3,500 students and more than 200 teams from across the U.S. and Canada.
Rackspace is sponsoring the event.
The FIRST programs are important because they are creating the STEM workers the U.S. needs so much, said Dean Kamen, inventor and founder of FIRST Robotics. He attended the event Friday.
"Everybody has finally figured out that the future of our country, our competitiveness, our ability to deal with problems like healthcare, environment and energy, requires way more kids to get involved in science and technology and inventing as a career," Kamen said.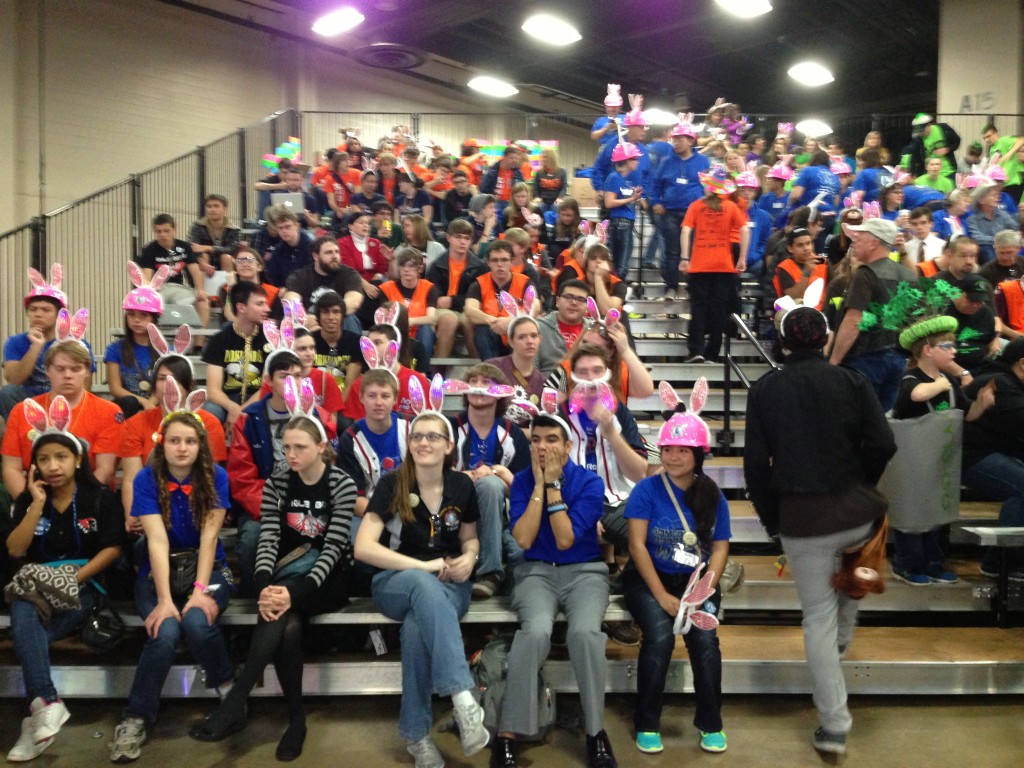 Kids need more role models so they can envision themselves as scientists. "Particularly, young women don't think about it as a career because they don't see women in science and technology on TV," Kamen said.
There are very few jobs in the world of sports and entertainment compared to the millions of jobs available in technology, he said.
Kamen founded FIRST, which means For Inspiration and Recognition of Science and Technology, 25 years ago to provide four hands-on Science, Technology, Engineering and Math focused programs for students in grades kindergarten through high school. His goal is to make FIRST available in every school in the country.
"The great thing about FIRST is not that we teach anything, that's what teachers do, that's what schools do," Kamen said. "What we do is create a whole movement, a generation of kids excited about participating to learn, to become part of the tech community."
FIRST also appeals to women and minorities, Kamen said. Through the robotics program he's hoping to reach students everywhere, he said.
"So that over the next ten years I hope through FIRST the U.S. will re-emerge as the country in this world that has the most and the best scientists, technologists, engineers, inventors because that's what raises the bar of every generation, compared to the last one.," he said.
Every field that has seen improvement, it's because of technology, Kamen said.
"We used to pretty much be the only country in the world focused on technology," Kamen said. "But now the rest of the world has figured out that the key to the future is tech and their kids are focused like laser beams, which we invented, on technology and our kids are distracted by things that are amusing and fun."
The U.S. focuses too much on sports and entertainment, he said.
"I think they are great too. But they are a pastime," he said.
The kids in this generation have got to start with technology early at the FIRST Lego League competitions and stick with it and develop their skills.
"They've got to come out ready to be the best in the world." Kamen said.
Rackspace CEO Graham Weston also spoke to students about the importance of STEM education at the opening ceremony on Friday.
"We think FIRST robotics is the cornerstone event for getting future geeks and getting more kids into science and technology," Weston said. The FIRST programs develop critical thinking and problem solving at a young age, he said.
"It's much better to start tackling these engineering challenges when you're young," Weston said. "When you're mind is still open and ready to tackle big questions. This is a competition but it is one of the most intellectual and toughest troubleshooting and engineering competitions in the world. It takes real skill to win these prizes."
Rackspace also considers FIRST to be a great place to "hire future Rackers," Weston said.
In the mechanics pits before the competition, Sean McDonald, programmer for Purple Gears from Raleigh, North Carolina, showed off his team's two pending patents. And they've got another one in process, said Sean Greene, the team's modeler.
"We've got a patent on the wheel," Greene said. "So we've reinvented the wheel."
Their robot was competing in the FIRST Robotics Tech Challenge in the "Block Party" game in which their robot has to place plastic blocks into goals in an arena competition. The teams also can raise their team alliance flag up a pole and pull their robots up on a bar to earn extra points.
"We're learning a lot about engineering in this process," said Jessica Bayeh, junior at Cinco Ranch High School in Katy. She's a member of Cryptonite 624. All of the team members wore spiked up green hair. Cryptonite's robot, Sidewinder, is competing in the FIRST Robotics Competition game Aerial Assist, in which large robots must score as many balls in goals during a two minute and 30 second match.
Bayeh attended a special lunch to honor women in technology on Friday. She wants to pursue a career in engineering.
Her teammate, Libby Perego, a freshman, said she loves engineering. The robotics program has taken most of her time after school and on the weekends, but it's been worth it, she said.
"I'm really interested in engineering in general," Perego said.
Susan Pope, assistant director in the department of space science at the Southwest Research Institute in San Antonio, gave the keynote address during the Women in Technology luncheon. More than 200 students and mentors attended.