By LAURA LOREK
Founder of Silicon Hills News
Coaches in wizard's hats, kids in bunny ears, others donning purple and yellow vests made out of duct tape.
A student riding a bike to recharge all of the electronics from his high school team to compete in the FIRST Tech Challenge Robotics Alamo Regional Championship.
A line of mascots and kids doing a conga line to hip hop songs around groups of students hunched over displays tinkering with robots. Roped off arenas for robots to compete. Spectators cheering wildly.
The scene at Rackspace's headquarters on Saturday looked like a Lollapalooza for high tech high school students.
Rackspace transformed its headquarters' event center into an arena where 60 teams of more than 750 students from the southern region of Texas battled their robots in the FTC competition. Fourteen winning teams earned spots at the Super Regional competition to be held at the Henry B. Gonzalez convention center from Feb. 26 to March 1. Rackspace is the title sponsor of the competition.
"Rackspace is a strong supporter of STEM education in San Antonio," said Daniel Sherrill, spokesman. "We just think this competition is a way for us to connect with the community. And we provide a venue for an awesome competition for students to show off their skills in science, technology and engineering. The collaboration among so many teams coming together makes this a really fun place."
The students had to compete in two qualifying matches to make it to the competition on Saturday. Their robots, about the size of a laser printer, must perform tasks during rounds of competition with other teams in an arena. This year, the robots, which the students build and design on their own time, had to take yellow blocks and put them into baskets and then climb a bar at the end and hang from there.
Students also competed in business plan, marketing and social media competitions.
"We've got a lot of good competition here," said Patrick Felty, Alamo Regional Director for FIRST. "We're having a hard time judging."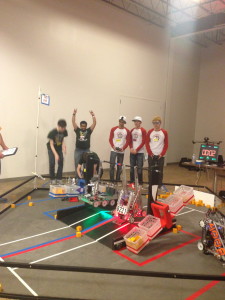 Inventor Dean Kamen founded FIRST, which means For Inspiration and Recognition of Science and Technology, 25 years ago to provide hands-on learning opportunities for students in the STEM fields. The program now serves more than 350,000 students nationwide, supported by more than 130,000 volunteers and 3,500 sponsors.
"As a business leader, these are the kids that are going to be our employees in the future," Felty said. "They may be our bosses in the future. This program inspires them to become the technology leaders of the future."
The kids build the robots, tackle the problems and find solutions. They compete, but they also have fun.
They also use the latest technology to help with their projects. For example, the 27-member team from Ronald Reagan High School has its own Maker Bot 3-D printer. They use it to custom make parts for their computer, said Morganne Blaylock, junior on the Reagan Robotics Rattlers team.
"It's a lot easier for us to make our own parts," said Chilli Kellaway, junior.
They brought the printer with them, set it up at their booth and printed different components at the competition on Saturday.
For three years, Megan Isabella Rodriguez, senior at Incarnate Word High School, has competed with the all-girls Shambots team. She was a founding member.
"The first year there was only three of us," Rodriguez said. Now the team has grown to more than 20 members. Rodriguez plans to go on to study biomedical engineering in college. She loves competing in the robotics competition.
"The environment is fantastic," she said. "Everyone here is so passionate and creative. It's a chance to use your brain and stimulate it."
First year Shambots competitor, Alexandria Garza, a junior at Incarnate Word, programs the robot and drives it.
"It's so gratifying to be given a problem, create a solution, and run it and test it in actual situations," Garza said. "It's amazing to see other people's brilliant ideas."
Robotics is only the beginning of what Garza hopes will be a long career in engineering.
"I definitely want to become a programmer or a mechanical engineer," Garza said. "I love it so much."
For the all girls team, Toxic Green Hornets, from Flour Bluff High School in Corpus Christi just making it to the regional competition was quite an accomplishment, said
McKenzie Graham, sophomore.
"This is our first year," she said.
The team of six met during their lunch hours, after school and on weekends to build their robot.
"Hopefully next year we'll have an actual class," she said.
Toxic Green Hornets team member Kasey Majek, a sophomore, wants to go onto study electrical and mechanical engineering.
"We're all into science and math and this is a fun thing to do with your friends," she said.
It's also the first year to compete for Alamo Heights High School. Fifteen students make up the robotics team, said John Munoz, the school's computer science teacher who started the program at the school.
"We did really, really well," Munoz said.
The Alamo Heights Mules team qualified for the finals through two previous competitions and right after the second one, the students re-designed the robot and added on to it, Munoz said.
They had a few ups and downs at the competition on Saturday. The robot's motor burned out during a battle.
"Immediately they came over here and fixed it up," Munoz said. "They've taken apart the robot so many times. We've got a great programmer, Zane Witherspoon."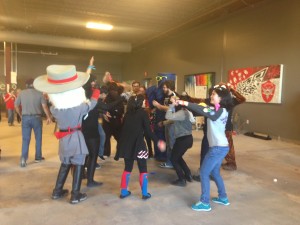 The competition means more to the students than just robotics, Munoz said.
"They are able to open up and see themselves in a different way," he said. "In the classroom, we only get a little sense of that."
The competition also allows classroom work, like text-based programming, to have real-life applications, Munoz said.
"They can see a really cool design come to life," Munoz said. "They also get to meet new people and be exposed to new ideas."
A video made by one of the competitors.