By LAURA LOREK
Founder of Silicon Hills News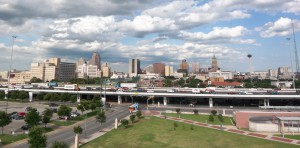 The entire region is booming.
As evidence, check out the Forbes story listing Austin and San Antonio number one and two metro areas, respectively, when it comes to booming economies for 2014.
San Antonio's technology industry got a huge boost from Geekdom, a downtown incubator and coworking space that helps startups. It also got a boost from the Eagle-Ford Shale Boom in fracking which is prompting a technology and energy boom in South Texas, which benefits San Antonio, the largest city to the energy-producing region.
So as we enter the New Year, it's also important to look back and see all that was accomplished last year. So without further ado, these are the top stories listed below for San Antonio in 2013, as determined by Web traffic and a few editor's picks.
1. Geekdom to Move Into the Historic Rand Building

2. Geekdom's Geekbus Rolls Out in San Antonio
3. Rackspace Launches the Open Cloud Academy in San Antonio
4. HeroX to Launch First in San Antonio with a $500K Prize
5. Riding the Rails Between Austin and San Antonio
6. TechStars Cloud Class of 2013 Shines at Demo Day (Featuring two San Antonio-based startups: TrueAbility and ParLevel System. And Rackspace acquired ZeroVM)
7. Code for America Coming to San Antonio
8. Startup Grind Features Graham Weston of Rackspace
9. San Antonio-based TrueAbility Lands $2 Million in Funding

10. Insight from "The Unstoppables: Tapping Your Entrepreneurial Power"
Disclosure: Geekdom is a sponsor of Silicon Hills News.