By SUSAN LAHEY
Reporter with Silicon Hills News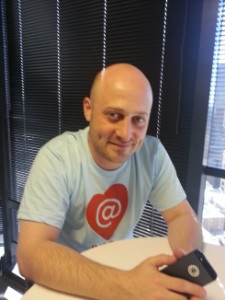 Capital Factory had a bang-up 2013: A visit from the president, the arrival of Techstars, adding another 25,000 square feet on the fifth floor of the Omni Building, incorporating live streaming of the myriad events that take place all week on the 16th floor.
Now the incubator is cogitating more great additions for 2014: A device lab, an interference room, a pitch room, a video lab and a user experience room, in addition to maybe taking over more of the Omni. And they're trying to figure out how to make their new features available to the public as well as the companies in the incubator.
"My job's super fun," said Josh Baer, executive director and founder of Capital Factory. "I get to sit around and think about what awesome things we could do that would make it better for these companies. It's a virtuous circle to make them want to come here so we can do more awesome things."
The device lab aims to have nearly every kind of mobile device—various smart phones, tablets, notebooks–so that developers can experiment with migrating apps from the web or their iPhones to a different device.
Vitorio Miliano, a user experience design expert who works out of Capital Factory and advises some companies there, is helping develop the device lab. One of the goals, he said, is to discover how responsive the design is. Another is that many companies who developed an app on one device start getting requests from customers to get the app on their platforms and "they can see how much work it will take and see if it augments their business plan without detracting from their original goals."
Eventually they'd like to include novel devices including the Oculus Rift, Google Glass and other experimental hardware that most startups wouldn't get the chance to play with.
The interference room will be a room—probably with metal walls—where developers can test how well their products work in basements, parking garages, elevators, giant concerts like ACL and other places where apps are likely to meet considerable interference.
Capital Factory is also working on a video lab complete with professional cameras and lighting, where startups can film pitch videos, kickstarter campaign videos and interviews. The incubator this year started live streaming its many events, like Startup Grind and Lean Startup, through LifeSize video conferencing.
Other projects maybe a little farther down the road include a User Experience room with a one-way mirror where companies can watch people interact with their apps, and a pitch room. The pitch room would simulate the experience of pitching in front of an audience including bright lights, a virtual audience and interruptions.
Baer is hoping to make all these resources available to the public and inexpensive, but hasn't figured out the revenue model yet. He's working with several companies on sponsorships.
"What we're interested in is 'What are the things every startup should be using but can't afford to do on their own?'" he said.