By LAURA LOREK
Reporter with Silicon Hills News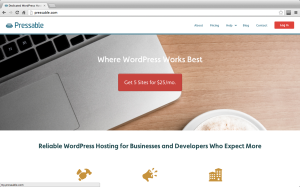 Pressable is the new startup at Geekdom in San Antonio.
But it's actually one of the oldest startups at the downtown co-working space.
Vid Luther launched ZippyKid in 2010 as a managed WordPress hosting site.
On Thursday, the company rebranded as Pressable.
With the new name, Luther, CEO, plans to align the company's brand with its growth.
Last summer, Luther bought the domain name and Twitter handle for Pressable. He wanted the name to reflect the company's focus on WordPress hosting for Fortune 100 companies, startups, nonprofit agencies and professional organizations worldwide.
The company is also introducing a new pricing model. It currently hosts one website for $25 a month. Starting today, customers can host up to five websites for $25 a month.
"We commoditized WordPress hosting and made it available at a price that is more accessible," Luther said. Pressable seeks to simplify publishing online for WordPress users.
Today, an estimated one in five websites on the Internet runs on WordPress.
The rebranding is the first step in expanding Pressable's business, Luther said. Other changes will be unveiled early next year, he said.
Pressable is privately held company and has nine employees. It has raised $800,000 in seed stage funding from Rackspace cofounders Pat Condon, Dirk Elmendorf, Automattic, the company behind WordPresscom, DuckDuckGo founder Gabriel Weinberg, Slicehost founder Jason Seats and 500 Startups.
Pressable with 1,200 customers is profitable and has revenue of more than $1 million a year, Luther said.
Geekdom is a sponsor of Silicon Hills News