By LAURA LOREK
Founder of Silicon Hills News
Ten companies pitched perfectly at the inaugural Austin Techstars Demo Day before a packed house at the Austin Music Hall Tuesday afternoon.
No one read from a script or even flubbed a line.
The Techstars Austin class presented well thought out business plans and many already had customers and revenue.
The companies included: Accountable, a HIPPA compliance program, Atlas, a health and fitness wearable bracelet, Embrace, a customer relationship program, Filament Labs, a patient management platform, fosbury, a mobile coupon site, Gone! – a marketplace to resell used goods, MarketVibe, a business-to-business content marketing platform, ProtoExchange, a network of 3D printers, testlio, a network of software testers and ube, a smart home appliance to control lighting from a smartphone.

Jason Seats, managing director of Techstars Austin, has headed up the past two Techstars cloud programs in San Antonio. He moved to Austin this year to oversee the new program.
"Techstars being here is largely about the community being here," Seats said. More than 70 people volunteered in Austin to mentor the companies, he said.
Techstars Austin is the latest addition to the Techstars program nationwide, which started in Boulder, Colorado. Techstars Cloud has taken place the last two years in San Antonio. But it has taken far too long to get the program to Austin, said David Cohen, its founder and CEO.
"We're pumped to be here," Cohen said.
Techstars also has programs in Boston, Boulder, Chicago, New York City, Seattle and London. The 13-week Austin accelerator program, which started in August, took place on the fifth floor of the Omni Building downtown. Techstars gives the companies $20,000 each in exchange for a six percent stake.
This Demo Day, however, the companies presenting did not ask for money. New rules issued by the Securities and Exchange Commission under the JOBS Act meant that the startups could not publicly state their fundraising goals, Seats said. So while many were raising funds, they could only speak privately to accredited investors until the new equity-based crowdfunding rules are hashed out, Seats said.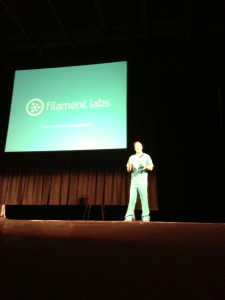 To kick off the program, Jason Bornhurst, co-founder of Filament Labs, donned green scrubs to talk about Filament Lab's "Web dashboard that drives the entire patient experience." The platform is a patient portal that allows doctors and other caregivers to put information about the patient's treatment online, including doctor recommended homework and medicine. The system delivers personalized care, cuts down on hospitalizations and increases overall efficiency, Bornhurst said. The software as a service starts at $299 a month for a small clinic up to $699 for larger clinics. Corinthian Health is rolling it out live at its 20 clinics by the end of the year, Bornhurst said.
"We're Filament Labs and we empower patient engagement," he said.

Next up, Kristel Viidik pitched testlio, a community of testers who find bugs in mobile software apps. The three-person team travelled from Estonia to participate in Techstars Austin. They plan to apply for work Visas so they can remain in Austin.
"Software testing is a whopping $90 billion marketplace," Viidik said.
Testlio is the "go to spot" for professional testers with more than 1,200 signed up, Viidik said. The company has also landed several agencies as customers and is testing software for dozens of companies already, she said.
"We make sure software works," Viidik said.
Then Bart Bohn pitched Embrace, which changed its name from AuManil. The company has created customer relationship management software that engages customers in a conversation. Its tools rely on customer data and analysis to increase revenue, retention and customer satisfaction, Bohn said. The company is currently working with BuildASign.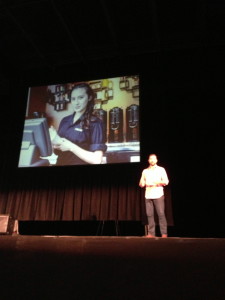 ProtoExchange has created a cloud-based network of 3D Printers. The network lets businesses find production and materials in real time to make their products in scalable and efficient way.
"We are ProtoExchange and we are bringing manufacturing to the cloud," said Jonathan Placa, co-founder and CEO. The three-person team is from New York.
Atlas created a wearable wristband for health and fitness tracking that goes beyond just being a smart pedometer, said Peter Li, its co-founder and CEO. Atlas' wristband can detect which exercise the user is performing and count reps and sets. It can count steps, squats, pushups and just about any activity.
Brooke Stacey, a fitness model, demonstrated the Atlas wristband in action on stage.
Following a short break, Gone!'s Nico Bayerque took to the stage to tout his marketplace for used goods. The app allows a consumer to take a picture of something they want to sell and then Gone finds a buyer for the item and sends a box with a shipping label to the seller's house. The seller simply puts the item in the box and mails it off. Gone! takes a cut of each transaction.

Erica Douglass pitched MarketVibe, formerly Whoosh Traffic, a business-to-business content marketing platform. The goal is to drive customer engagement, which leads to more sales, she said.
Cloudability, a former Techstars Cloud company based in Portland, is testing its service.
Kevin Henry, CEO of Accountable, a HIPAA compliance program, demonstrated how his software could help a company become complaint with federal healthcare regulations in five easy steps.
The cloud-based software as a service company costs $99 per month for small companies up to $449 per month for larger organizations.
Fosbury, based in Amsterdam, has created a mobile coupon company and has already created more than 100,000 "passes" for companies, said Lucas Tieleman, founder.
The last team to pitch, ube has already raised more than $1 million and is selling its $79 smart home light control panel at Amazon.com. The company also sold $500,00 worth of products to more than 2,000 customers during a Kickstarter campaign, said Utz Baldwin, its founder. The company already has nine employees and is expanding, he said.
Overall, the audience reacted positively to the Techstars pitches with lots of applause and Tweets congratulating the teams.
Keith Casey with Twilio served as a mentor to testlio. He met with the team for a few hours every week throughout the program.
He think's they've hit upon solving a big problem in the marketplace.
"The first 18 days when an app goes live is the most critical time," Casey said. "If it doesn't' work, you've lost your audience. You either launch it right or forget it."
Paul Ford with SoftLayer also served as mentor to the Techstars Austin teams. He was impressed with the overall quality of the teams.
"The quality of the hardware stuff is just amazing," he said.
"They were so incredibility impressive," said Chelsea McCullough, executive director of Texans for Economic Progress. "There was not one less than stellar company."
While lots of companies talk about data mining and big data, McCullough said she was impressed with Embrace's presentation on using data and analytics to retain and improve customer relations.
"They've taken data mining to the next level and made it actionable," she said.
Fred Schmidt, an investor, mentor and partner at Capital Factory and an executive with Portalarium Games, liked the number of international companies involved in the Techstars Austin class.
"I was really pleased with the number of international connections coming out of this class," Schmidt said.
More Austin companies need to think globally, he said. He's working to foster more connections between Austin and London's technology community.
Ben Dyer, entrepreneur in residence at UT and founder of Peachtree Software, liked testlio. He had a vice president of testing when he ran Peachtree Software.
"I understand the problem," he said. "If they can do what they were talking about it's pretty darn impressive."