By LAURA LOREK
Founder of Silicon Hills News
For the second year in a row, Eric Bandholz travelled from Spokane, Washington to attend Austin Startup Week.
"I lived here in 2003 and 2004 and I've been waiting for past ten years to get back here," Bandholz said.
His favorite events during Austin Startup Week include epic office hours, the Startup Crawl and a UX Design mentorship meetup. The week long celebration of Austin's technology entrepreneurs and industry is jammed packed with daily events at various venues around town.
The event kicked off Monday and runs through Friday.
Monday night, Bandholz manned a table for his company beardbrand at the Made in Austin Career Fair and later attended the Austin Technology Council's Battle of the Bands at Mohawk.
Before the Battle of the Bands, 50 companies had tables at the Made in Austin Career Fair, sponsored by HP Cloud, CoolheadTech, Masters of Technology Commercialization Program at UT, Reed & Scardino LLP and PayPal.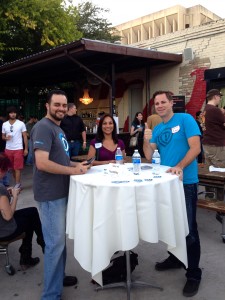 Erik Larson and Frederick "Suizo" Mendler of TrueAbility, a site that tests the technical aptitude of Linux administrators and others, made the trip from San Antonio, to recruit a few new employees.
Other companies in attendance included Mutual Mobile, The TechMap, SpareFoot, MapMyFitness, StoryPress and Tech Ranch Austin.
Bandholz is one of ten people Jacqueline Hughes, organizer of Austin Startup Week, arranged to fly in for the event. Altogether, ten people flew in this year for Austin Startup Week, up from six last year, she said.
Overall, Hughes said she expects more than 4,000 people to attend the various events throughout the five days of Austin Startup Week, up from 2,500 people last year, she said.
Bandholz plans to move his company, beardbrand, to Austin in April. His business partner, Lindsey Reinders moved here a few months ago.
Their ecommerce site sells products for the bearded lifestyle, Bandholz said.
"We foster style for the urban beardsman," said Bandholz, who sports an impressed beard himself. "We do a lot of business on the Web. We could be located anywhere. Austin is our city of choice. We're coming here because it's a cool city."
That's the kind of thing Julie Huls, president of the Austin Technology Council, likes to hear. She arranged for the first ever Battle of the Bands Monday night at Mohawk. The event featured eight startup bands made up of technology workers at various startups around town.
"There's similar patterns between musicians and technology people," Huls said. "Music is a huge part of the technology industry in Austin. The technology industry wouldn't be here without music. The two industries are symbiotic."
The competing bands included Scorpio Rising, Digital Tiger (MapMyFitness), TroubleHawk (BuildASign), Thanks Light (Big Commerce), Boogaloo Grove (SpareFoot), The Pons (PeopleAdmin), Vorcha (ReachForce) and Hector Ward and the Big Time (Oracle).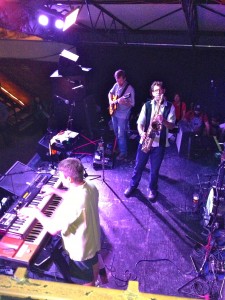 TroubleHawk from BuildASign won the crowd favorite as measured by a clapping meter.
Vorcha won the judge's favorite and as a prize gets time to record in Aryln Studios.