By LAURA LOREK
Founder of Silicon Hills News
The crazy tale of Ross William Ulbricht, also known as "Dread Pirate Roberts," after a masked fictional character in the movie "The Princess Bride," sounds like a HBO series on a renegade Internet entrepreneur gone wrong.
Ulbricht, 29, allegedly operated the Silk Road, a sprawling $1.2 billion black-market bazaar for drugs, computer hacking software, forgeries and hit man services. He founded the site, programmed its features and oversaw its operations on a daily basis, according to the Federal Bureau of Investigations.
The FBI arrested Ulbricht earlier this week on charges of narcotics trafficking, computer hacking and money laundering,
according to a sealed criminal complaint
by Christopher Tarbell, FBI special agent.
A Native of Austin
Ulbricht, who grew up in Austin and graduated from Westlake High School in 2002, is now in jail in San Francisco facing charges that carry several hundred years of jail time.

The FBI arrested Ulbricht for owning and operating the underground website known as "Silk Road," which provided a platform to sell heroin, cocaine, LSD and Methamphetamines. Ulbricht, under an alias "altoid" allegedly called the site "an anonymous Amazon.com."
The complaint also alleges that the Silk Road provided a platform to trade "malicious software designed for computer hacking, such as password stealers, keyloggers, and remote access tools." It also traded in other illicit goods and services through a payment system based on Bitcoins, an unregulated digital currency.
The FBI alleges that Ulbricht added a Bitcoin "tumbler" to the Silk Road payment system to "ensure that illegal transactions conducted on the site could not be traced to individual users."
The two-year investigation of Silk Road, headed up by FBI Special Agent Tarbell, also involved agents of the Drug Enforcement Administration, the Internal Revenue Service, and Homeland Security Investigations.
So who is Ulbricht?
Ulbricht's Facebook page reveals that he liked beer pong and crazy hat parties. He enjoyed movies like The Matrix, Office Space, Time Bandits and Lord of the Rings. His favorite books included Be Here Now, Hyperion, The Power of Now and Shogun.
His interests spanned money, partying, yoga, dancing, drumming and strength training.
He also focused on entrepreneurship and participated in a 3 Day Startup program in 2010. His LinkedIn profile listed his occupation as an "investment adviser and entrepreneur" based in Austin.
But the FBI alleges that starting in January of 2011 through September of this year, Ulbricht ran a global platform for drug dealers to sell controlled substances online.
And the plot deepened even further this year when Ulbricht allegedly "solicited a Silk Road user to execute a murder-for-hire of another Silk Road user, who was threatening to release the identities of thousands of users of the site," according to the complaint.
The Silk Road operated on the "the onion router" or "tor" network, which provides anonymity to users.
"Based on my training and experience, Silk Road has emerged as the most sophisticated and extensive criminal marketplace on the Internet today," according to Tarbell. "Silk Road has been used by several thousand drug dealers and other unlawful vendors to distribute hundreds of kilograms of illegal drugs and other illicit goods and services to well over a hundred thousand buyers, and to launder hundreds of millions of dollars deriving from these unlawful transactions."
All transactions took place using Bitcoins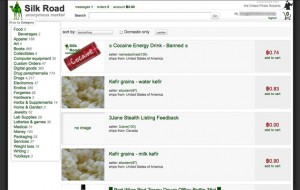 The site generated more than 9.5 million Bitcoins and collected 600,000 in Bitcoin commissions, equivalent to about $1.2 billion in sales and $80 million in commissions, according to Tarbell.
As of Sept. 23, the Silk Road had 13,000 items listed for sale under categories such as "cannabis," "dissociatives," "Ecstasy," "Psychedelics," and "Stimulants." The items were sold in individual dosages and bulk orders.
During its investigation, law enforcement agents purchased more than 100 items of controlled substances such as cocaine, heroin, LSD and more from sellers on the Silk Road.
The Silk Road charged a commission, ranging from 8 percent to 15 percent, for every transaction on its site.
Hiring Hitmen
Tarbell also reported that Ulbricht took "it upon himself to police threats to the site from scammers and extortionists, and has demonstrated a willingness to use violence in doing so."
In a second criminal complaint from the state of Maryland listed on the Baltimore Sun's website, Ulbricht is alleged to have hired a hitman to kill an employee who he thought was stealing from Silk Road. He allegedly paid $80,000 to an undercover cop to execute the employee in January of 2013.
And in another case of hitman for hire a few months later, Tarbell outlines how Ulbricht allegedly sent messages to have a Silk Road user in Canada with a wife and three kids, named "FriendlyChemist," killed for $150,000 or 1,670 bitcoins. The guy was trying to extort Ulbricht for $500,000 or else he would release the names and addresses of Silk Road users.

Ulbricht struck a deal with a user called "redandwhite." After receiving his payment, that user messaged Ulbricht stating, "Your problem has been taken care of…. Rest easy though, because he won't be blackmailing anyone again. Ever." The user provided pictures to Ulbricht of the alleged dead body of the victim, but the police have been unable to find any record of a homicide occurring in White Rock, British Columbia on or about March 31, when this incident allegedly took place.
How did Ulbricht end up in jail?

He graduated from the University of Texas at Dallas with a Bachelor of Science degree in physics in 2006, according to his LinkedIn profile. Then he attended graduate school at the University of Pennsylvania School of Materials Science and Engineering.
On his LinkedIn profile, Ulbricht states that his goals shifted since graduate school and that he was focused on "creating an economic simulation" designed to "give people a first-hand experience of what it would be like to live in a world without the systemic use of force" by "institutions and governments."
Tarbell believed that system to be Silk Road. He also reported that Ulbricht, under the alias "altoid" posted on different online forums to market Silk Road.
The Social Media Trail
The FBI heavily relied upon social media sites like LinkedIn, Facebook, Twitter and Google + to put together a profile of Ulbricht and link him back to Silk Road. For example, Ulbricht's Google + profile listed his favorite YouTube videos, which included a number originating from Mises.org, the website of the Mises Institute, the world center of the Austrian School of Economics.
Ulbricht, under the alias DPR, had cited the "Austrian Economic theory" and the work of Ludwig von Mises and Murray Rothbard – economists closely associated with the "Misus Institute" as providing the philosophical underpinnings for Silk Road.
Ulbricht's best friend is Rene Pinnell, founder of Hurricane Party and Forecast in Austin, which shut down in July of 2012. Pinnell moved to San Francisco shortly after that. Ulbricht was living at his parents house in Austin and moved shortly after that to join Pinnell in San Francisco.
In its complaint, the FBI reported that Ulbricht lived for a while with a friend who moved to San Francisco in September of 2012. That friend is believed to be Pinnell. They also made a YouTube video together interviewing each other for Story Corps, according to a posting on Pinnell's personal website. The video shows Pinnell and Ulbricht in split screen talking about moving out to San Francisco, school friends, work, women and other interests. The two have known each other since sixth grade at West Ridge Middle School.
Josh, Frosty and other Aliases
In July of 2013, the U.S. Customs and Border Protection intercepted a package from Canada that contained nine counterfeit identity documents. Agents then visited Ulbricht at his house on 15th Street in San Francisco where he sublet a room for $1,000 monthly, which he paid in cash. He provided them with a copy of his real Texas driver's license and said that his two other housemates currently only knew him by the fake name "Josh."
He told the agents that "hypothetically anyone could go onto a website named "Silk Road" on "Tor" and purchase any drugs or fake identity documents the person wanted."
"The agents also spoke with one of Ulbricht's housemates at the address, who state that Ulbricht, whom he knew as "Josh," was always home in his room on the computer."
Tarbell concluded in his investigation that Ulbricht was stocking up on fake identities so he could rent multiple servers from hosting companies under false identities.
Ulbricht also used the alias "Frosty" posting in computer coding forums for help on programming his illegal underground website.
So how did a kid, who liked cliff jumping and snowboarding and grew up in Austin, got advanced degrees and studied to be an entrepreneur, go down such a bad path? That's something that only Ulbricht knows. But one thing is for sure, this Silk Road didn't lead to riches and the good life, but to the inside of a dingy jail cell. And if convicted, Ulbricht, a bright kid with so much promise, faces the possibility of spending the rest of his life in prison.
At a hearing on Friday, Ulbricht's lawyer denied all charges including that Ulbricht ran the Silk Road website, according to the Los Angeles Times.