By SUSAN LAHEY
Reporter with Silicon Hills News
E4Youth
won the Social Good Summit fast pitch competition Tuesday with its program that helps creative young people connect with mentors, internships and jobs in creative services. Rather than having a panel of judges, the participants at the summit voted for their favorite pitch among the six presented. The winner won $5,200.
Founder Carl Settles began his pitch by talking about how creative kids often have a difficult time fitting in in school and budget cuts to school sponsored programs in the arts has made it even tougher. E4Youth takes young people out to tour creative agencies and introduces them to job opportunities in various creative careers. They introduce them to agencies, help them build their resumes and help them raise money to attend events like SXSW. Over the last six years, he said, students helped by E4Youth have had numerous career successes including having a film premier at the Cannes Film Festival, working for congressional campaign and more. The majority of students who complete the program wind up with internships and later jobs. Settles said he would use the money to deepen the organization's program and help more students. Currently E4Youth works with 400 students a year.
Dollar a Day
also works to help kids with creative arts. Founder Cameron Gibson told the story of how sports, music and creative arts had been hugely important to him as a student. When he had to drop out of school to help with family issues, he became depressed. He decided, one day, that the rule of life is, whatever you hope to gain, you have to give it first. So he started giving away $1 a day. That was the advent of Dollar a Day. This nonprofit asks people to commit to spending a dollar a day toward kids who need help with lessons, instruments and other expenses of arts classes. Donors can create a giving team of 10 people who also give a dollar a day. Eighty percent of donations go toward helping kids.
Connect2Good is aiming to be an online marketplace wherein nonprofits can post their needs in terms of furniture and material goods and people can sell their extraneous "stuff." Joshua Jake Vaugh said he founded the organization because of his own difficulties finding items—like furniture–he needed for another nonprofit he was starting. Fifty to 75 percent of the proceeds of the sale got to the nonprofit of the seller's choice.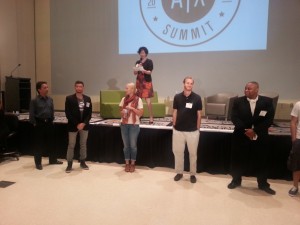 Frugal Innovations aims to be an online site for the various innovations companies and individuals have devised to solve problems faced in the third world such as lack of plumbing and electricity. Founder Jose Briones would like to bring together on one site solutions like the Easy Latrine from Cambodia, water purification systems from India and more so that organizations and nations can have one place to go to find solutions.
David Schwartz of NGO and Social Enterprise Hub wants to create a site, similar to a dating website, where organizations with similar missions can connect and host joint fundraisers or benefit from each other's resources. An organization with a great meeting space, for example, might help out another organization with a similar mission that needed a meeting space. He hopes to make giving "social" rather than having so many organizations spend so much time fundraising and fighting for the same donor dollars.
Jessica Lowry of Key To The Street has been working with the City of Austin discussing her app-to-be which lets people take pictures of Austin streets and create animated streetscapes that would help start a dialogue about improvements to walkability. The conversation around how to improve Austin so that it is more walkable, she said, would eventually translate to policy changes.
The Social Good Summit pitch competitors were coached by several local experts including Eve Richter, Kevin Koym and Gary Hoover.