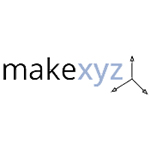 Makexyz is a global online marketplace that connects people who want to get a product made with a 3D printer to people who have them in their neighborhoods. Nathan Tone, the company's co-founder, spent some time Thursday morning chatting with Silicon Hills News about the startup, which launched in January and has quickly grown both locally, nationally and internationally.
Q. What is makexyz?
A. It's a 3D printing marketplace that links people who need something made with 3D printers in their neighborhoods.
Q. Who are your customers?
A. Our customers are consumers making things like iPhone cases and toy robots, businesses prototyping their next products. And people with 3D printed products, like a watchband, that are producing hundreds of units through makexyz.
Q. Who is on your team?
A. My co-founder, Chad Masso, and I met working at indeed.com. He comes from an engineering background. I come from the product side. Our team of four is rounded out by two other awesome developers.
Q. Why are you guys the ones to do this startup?
A. We're here because we like making things ourselves, and makexyz is a really great opportunity to help other people make stuff at a significant scale. That perspective, in combination with our history of building great products, has proven successful so far.
Q. What challenges do you face bringing your startup into the marketplace?
A. It's still a very new technology for a lot of people, so the education challenge is significant — helping people understand what's possible with the technology. We're lucky because we have a network of over 1,000 3D printers in 45 different countries who know their subject matter and who are more than willing to share their knowledge with customers.
Q. How do your acquire customers?
A. To date growth has been completely organic and referral driven. On the printer side, the community has proven very tight-knit, where printers who have made money and met interesting makers through makexyz are more than happy to tell their friends about makexyz. On the customer side, if you use makexyz, you end up with a really interesting and unique object, which your friends and family will ask: "where did you get that?" Through makexyz.
Q. What is the business model?
A. We add a charge on top of every order. Think: airbnb for 3D printers.
Q. How are people using makexyz?
A. Once you have a distributed network of 3D printers, there are some really interesting applications that you can build on top of it. For example, with printers in 45 different countries, makexyz makes it possible to produce and deliver a product to a customer anywhere in the world in less than one day.
Q. Are you bootstrapped or do you have angel or VC financing?
A. We're bootstrapped. We're not actively looking for funding, but if the right opportunity came along we'd consider it.
Q. What Austin resources have you found most helpful?
A. Austin's community of very successful revenue-oriented entrepreneurs who are happy to help out in any way they can. That has been a huge help for us along the way. It's a great town to start a company in.
Q. What has been your biggest win so far?
A. Starting out, our original goal was to start in Austin only. But as soon as we launched, printers were signing up all over the U.S. And we were receiving emails every day saying "I'd love to list my printer, but I'm not in the U.S." So we opened everything up internationally. So we've been international pretty much from day one. It wasn't a pivot as much as a fast-forward for us. When we said: this makes just as much sense globally as locally.
Q. What is your long-term vision?
A. Our goal is to help people make things. And in service of that goal, we're willing to take the business in any direction that makes sense. In terms of long term vision, through makexyz's global network, you will be able to produce and deliver any product to a customer anywhere in the world, for free and in less than one day. That's a big enough mission for now.