By ANDREW MOORE
Reporter with Silicon Hills News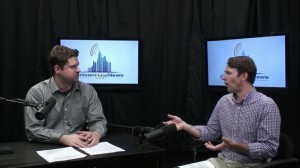 The United States may be the land of opportunity, but opportunity is useless unless there are individuals to take advantage of it. Today our country is currently lacking the scientists, engineers, and tech experts that our high-tech industry needs to be successful. While there are foreign students and tech experts to fill this void, the current U.S. immigration policy limits access to these resources.
Peter French created Free Flow Research to help solve this problem. The goal of the organization is to help immigrant graduates and entrepreneurs in STEM fields come to San Antonio, stay here, and fill gaps in the high tech industry. It will also continue to do research and support immigration reform.
French is pursuing these goals by creating partnerships with the STEM departments in Texas Universities as well as international student associations in order to find these students and give them more options for the future. He is also reaching out to local business like Rackspace and USAA so these students will have an easier path into a high tech job. In addition, Free Flow Research will work to educate employers on the benefits of hiring and sponsoring immigrants — as many are nervous about the legal processes involved.
Free Flow Research does more than just connect students with businesses, however. The organization is currently building a support structure to provide immigrants both funding and legal services if they come to work in San Antonio. By coming to Free Flow Research, foreign students will be able to receive guidance throughout the immigration process and take advantage of the visa options that best suit their situation.
Connect with them at Free Flow Research.
In addition to their other services, Free Flow Research is currently awaiting certification as a 501(c)(3) nonprofit organization. When certified the organization will be able to self-sponsor cap-exempt H-1B visas for qualified workers. Because of their 501(c)(3) status, the organization will not be subject to the visa cap or annual application cycle dates – allowing them to sponsor visas year round. Sponsored immigrants will be able to work for Free Flow Research or will be contracted to work on third party projects.