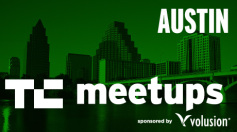 TechCrunch's Jordan Crook gets more than 1,000 pitches from tech companies seeking publicity every day.
So how does she sort through it all and find the stuff she likes to write about?
"It's all about the person. When I can find an app that I love that I can share with other people that's what I look for," said Crook, a New York-based writer with TechCrunch.
While some TechCrunch writers focus on how much funding a startup gets, Crook seeks out companies at their earliest stages.
"I'd rather hear that you're bootstrapped and you're doing something really cool," she said.
TechCrunch held a Pitch Off at Stage on Sixth Thursday night to meet some of the startups doing cool technology in central Texas. The technology news site is starting to see more and more activity coming out of Southern states, Crook said. It's also seeing a lot of activity coming out of Asia, Latin America and Europe, particularly Germany and England.
On Thursday, 20 startups got a chance to deliver a 60 second pitch in front of a panel of judges consisting of Jeff Harbach, executive director of the Central Texas Angels Network, Joshua Baer, co-founder of Capital Factory, John Biggs, East Coast Editor with TechCrunch and Matt Burns, senior editor at TechCrunch. Crook served as the master of ceremonies for the event, which was packed and really loud and boisterous.
In the end, First Cut Pro, an online video editing and collaboration program, won the #TCAustin Pitch-Off and Embarkly, an online dog boarding location service, got second place. Camperoo, a directory of camps and activities for kids, won as audience favorite. The winners got tickets to TechCrunch Disrupt SF and the first place winner got a spot in Disrupt SF Startup Alley that allows the company to have an exhibit at the show.
TechCrunch has the list of all of the companies that presented here. A few of them didn't show up.