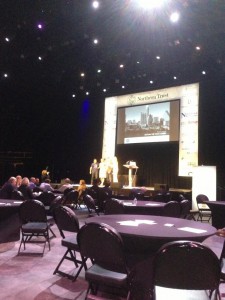 RideScout won first place in the Austin Technology Council's Startup Showdown at the 2013 CEO Summit last week.
RideScout is an app that lets people see all the options available to them to get a ride. It launched during South by Southwest and had more than 300 users sign up for the service, said Joseph Kopser, RideScout CEO.
Austin-based RideScout's app aggregates and ranks the best options for getting a ride including public buses, transit, subway, taxis, limos, shuttles, pedicabs, Car2go and peer to peer ride sharing. It's only available for Apple iPhones right now, but an Android version is expected later this year.
RideScout beat out Nibl It, a micropayment system for publishers, Lodestone Social, social media rewards systems for sports teams, Ideal Asset, an asset marketplace, and ReQwip, a marketplace for buying and selling triathlon equipment, to take the top prize, a year membership in the Austin Technology Council.
Last year's winner, Toopher reported that winning the Startup Showdown helped its business expand.