By Ian Panchèvre
Reporter with Silicon Hills News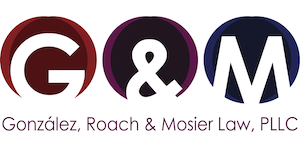 The legal industry is facing disruption.
Outsourcing legal services abroad is becoming increasingly common. Online companies such as Legalzoom and WireLawyer are making documents more accessible to casual legal consumers. And in the midst of all the change, a San Antonio law firm is blazing its own trail in true startup fashion.
González & Mosier is an up-and-coming law firm that offices out of Geekdom, in San Antonio. G&M was founded by Luis González, Roberto Rondero de Mosier, and Nathan Roach.
Collectively, the trio represents a diverse legal background. Roach – a Trinity and St. Mary's law graduate – considers his expertise to be litigation and technology. González – a product of Stanford and UT law – is a man of immigration and domestic and international business law. Whereas Mosier – also a Stanford and St. Mary's graduate – fancies sports, entertainment, and general business. All three consider intellectual property an area of expertise.
While working as a litigation consultant, Roach developed the opinion that attorney's at most law firms operate in silos. This was a problem that the partners wanted to solve when forming G&M.
As the first and only law firm to have an office at Geekdom, they sought to develop an integrated approach towards business law that is well-suited to the legal needs of technology startups.
Startups are different than traditional businesses in a number of ways. Accordingly, they face unique challenges and legal considerations.
For example, a common challenge with startups is funding. After all, startups that aren't fully funded can still have costly, legal needs.
"Coming from the perspective of an entrepreneur, we know budgets can be very constrained and that funding is oftentimes an issue," explains González. "So we tell our clients, 'we want to build a long term relationship with you, we want to grow with you.'"
In that spirit, G&M has been operating a client-centric billing model, something they refer to as value-based billing.
Roach elaborates on the issue: "With firms that do billable hours, the bill is measured by the convenience of the attorney, not the value that is provided to the client."
In contrast, G&M meets with its clients to talk about their needs and the value an attorney can deliver. A number or a structure is then established that quantifies the monetary value of their services, as opposed to setting an hourly rate and then running the clock.
"If it doesn't match up on a billable hour basis, that's okay because the client will find that we delivered value for them," concludes Roach.
Another novel characteristic of G&M's integrated approach is the firm's position on business consulting.
Once upon a time, attorneys were commonly identified as "Attorneys and Counselors." The implication being that advising on general business matters was part of a lawyer's purview.
"The 'counselors' part doesn't get as much attention these days," observes Roach. "But a lot of times that's the more important part of the relationship… Sometimes a problem doesn't require a legal solution."
An additional trait of the firm's integrated approach is an atypical understanding of technology, which relieves G&M's clients from the educational process they often encounter with traditional law firms.
"Here, someone comes in and has a question on whether or not they are violating their terms of services because of a particular way they are attacking an API," says Roach. "And we can talk about it without having to say, 'okay, let me go back and look up what an API is.'"
Scheduling is another challenge. Given that startup entrepreneurs are notorious for erratic work schedules, G&M often meets with clients at odd hours and on off days. "Saturday and Sunday meetings are common," notes González.
While these entrepreneurial attorneys are busy with a peculiar work schedule, they maintain that their efforts are in support of a greater cause.
"Geekdom's community mission is very important to us," says Roach.
To that extent, G&M has offered pro bono legal clinics for the Geekdom community. "We're in a unique position to help these companies succeed," continues Roach. "If we have a legal relationship, that's great. But a lot of it is simply education for the community."
Roach goes on to describe the legal "circle of life" that he gets to experience with clients. "Most companies start off with a legal need when they form," Roach notes. As they mature, "their legal needs change." And eventually, "they either need to sell or wind down."
At Geekdom, companies in the beginning of their lifecycle are in abundance. But as these startups grow into sustainable businesses, the need will arise for a legal team that can work with companies "no matter where they are in their corporate life."
While G&M works to fill that role for its clients – which include some of the most recognizable companies at Geekdom – the founders also give thought to the lifecycle of their own business.
"Five years from now, expect us to expand our presence in Austin, New York, and California," predicts Roach.
González continues: "We want to become the premier firm for business law and intellectual property. I know that's a lofty goal. But the most important thing is making sure that our clients are able to say that they have something special with us."
It appears that they are on the right track.
Parlevel Systems – a Techstars Cloud startup that is connecting vending machines to the web – is a G&M client. Walter Teele, the CTO of Parlevel, comments on "the human side" as a compelling strength of G&M.
"Not only are they professionally good, but they are really cool people. They really like to get involved with you and give you close attention."
Roach attributes the strong relationships that G&M has with its clients as a primary driver behind the firm's growth.
"Even in the first year of the company's life, our growth has wildly exceeded our expectations. The response has been fantastic. We have not had to do much in the way of marketing… all our business is referral driven, with one client telling another client, it's been great."
All things considered, G&M certainly departs from the library-with-wood-paneled-walls ethos embodied by traditional law firms.
"Each of us like being disruptive," says Roach with a bit of a grin. "It's fun to be hacking the law.
Disclosure: Geekdom is a sponsor of SiliconHillsNews.com