BY IAN PANCHEVRE
Reporter with Silicon Hills News
Austin is now in my rearview mirror.
Well, not exactly. I reasoned that writing this article while driving would be rather imprudent. So instead, I find myself at a Starbucks in Buda, TX, reflecting on the blur of events and emotions that transpired over the past few days.
It's hard to summarize SXSW in a concise, all encapsulating sentence or phrase. Even the great Rachel Maddow struggled with the following question posed by @IanPanchevre via Twitter: #AskMaddow – Fill in the blank, SXSW is a lot like _______________.
Maddow's answer – "I feel like it's a cross between a political convention and lollapalooza" – came off a little flat. Lollapalooza? I'll buy that. A political convention? Hmm…
Here's another attempt to summarize the festival: Inspiring and humbling.
Starting with the inspiring, Astro Teller, a member of Google's experimental laboratory, Google[x], spoke Tuesday morning on "Moonshots," Teller's term for ambitious, far-reaching projects and people. He encouraged the audience to think creatively, to set big goals, and to fearlessly pursue the supposed impossible.
"We want to work on something really thrilling, something that really matters, something that pushes us to our limits while doing it with people whom we deeply respect and admire," explained Teller.
As for a modern day archetype of a moonshot, Teller points to Elon Musk. Without a doubt, Musk stole the show on Saturday with narratives from SpaceX (a private space exploration company), Tesla Motors (an electric vehicle manufacturer), and SolarCity (a provider of solar power systems).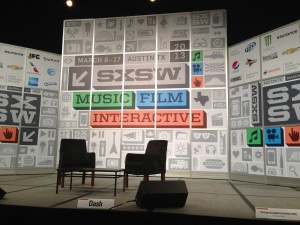 "He's doing all these amazing things at the same time!" exclaimed Stephen Blank, author of Four Steps to the Epiphany. "So, next time you take a look at your little mobile app, realize there's still more to accomplish."
And that leads me to the humbling.
Blank, speaking Saturday morning, drew a comparison between the two industry clusters in California – technology in Silicon Valley and film and entertainment in Hollywood. His assessment was that Silicon Valley, like Hollywood, has become a "star ecosystem" where celebrity figures are idolized, gossip constantly churns, and supporting industries extract value from the few who do productive work.
Blank's message: don't get distracted by the glamour of startups, stay focused on building a great product and good things should follow.
Okay, but what about the tech? Yes, there was lots of that too.
Surprisingly, mobile technologies were quiet at SXSW 2013. Given the track record of mobile launches at the festival, there was certainly an air of expectation for something to rise above the noise.
Not this year. If there were truly a breakout mobile app, I didn't hear about it.
Yes, there were some cool apps. Aurasma, an augmented reality application boasts great performance, design, and branding. Tout, a Twitter-like service for short videos, got some attention. But that was mostly because Shaquille O'Neal, a Tout-backer, made a few appearances on the company's behalf.
All things considered, no true marvels of technical accomplishment nor user engagement presented themselves among the mobile applications.
Perhaps what is most telling is that the only app that did seem to organically capture a fragment of the festival's attention was Tinder – a dating app that, though well designed and fairly "sticky," can be easily written off as flashy, valueless, and ephemeral.
Rather, SXSW 2013 will most likely be known as a year for hardware products, as opposed to enterprise software or consumer applications.
Additive printing technologies (i.e. 3D printing) built upon the momentum they gained at SXSW 2012 to claim a lot of the spotlight in 2013. The festival was given a proper kickoff by Bre Pettis, Founder and CEO of MakerBot, who entertained the audience at the first keynote. Conversations abounded throughout the weekend about the social, economic, and legal implications of this coming revolution in manufacturing.
OUYA – the new gaming console that will soon come to a store near you – was introduced to the SXSW audience by Julie Uhrman, its Founder and CEO. OUYA, priced at $99, empowers game developers of any size and budget to sell games through OUYA's marketplace. Uhrman shared insights on running a successful Kickstarter (OUYA holds the record for the most amount of money raised on Kickstarter; $8.6 million from over 63,000 individual backers), the difficulties of product design, manufacturing, and distribution, and the deficiencies of the existing gaming ecosystem.
Leap Motion's motion-control device was a big hit as well. Co-founders Michael Buckwald and David Holz dazzled the crowd by elucidating upon the technical wizardry of their controller's hardware and software. The Leap Motion promotional tent – where attendees could manipulate various applications by waiving their hands and fingers – was a popular destination. In fact, yours truly was so impressed that he pre-ordered a Leap Motion Controller for $80, to be shipped later in March.
And then there were the wearables. Wristbands and watches that capture key biometrics à la FitBit abounded. But Google Glass – Mountain View's bold new technology that places an internet overlay in front of a user's eyes – perhaps stirred the most geek juice at SXSW. Sadly, my attempts to sneak into a presentation on the technology (the room reached capacity before I could get in) were unsuccessful.
Space exploration was another area that captured curiosity. Not only did Musk raise excitement about private space exploration, but NASA also provided perspective on the status of our public space program. A well-attended session on the user experience of a space station touched on interesting topics, such as the challenges of replacing laptops on a space station with iPads.
In retrospect, my extended weekend in Austin was fantastically stimulating. I couldn't have hoped for better exposure to the latest, most magical, technologies.
Then there was the social side of things. During the day my mind was regularly blown with new ideas. At night, my poor iPhone 5 was barely able to keep up with the onslaught of texts, tweets, trending places, Facebook messages, and emails broadcasting the coolest spots for scoring free food, drinks, and swag; the quality of which was generally very satisfying.
Perhaps the ethos of the festival was best captured during an exchange between Dennis Crowley, Founder and CEO of Foursquare, and Anil Dash, Co-Founder of Activate.
Crowley noted during his interview that at South by Southwest, "you get to experience the future for a couple of days and then you go home and live in the present."
"Wow, the future has a lot of hangovers!" retorted Dash.
The crowd immediately roared with laughter. Evidently, Dash's witty remark resonated with a few of the attendees.
As for myself, all I can say is that if I had stayed any longer, I ran a real risk of having my body pull an emergency force quit. So I'm calling it a wrap now, while I can still boast that I survived South by Southwest 2013.
I hope you've enjoyed Adventures in Austin! Please feel free to share your thoughts on the series in the comments below.
Previous segments:
Apparently there's this conference happening in Austin?? Adventures in Austin, Part 1.0.0

Adventures in Austin, Part 2.0.5: SXSW = big fun and big business.

Flying High with Interact ATX! (Adventures in Austin, part 3.2.1)