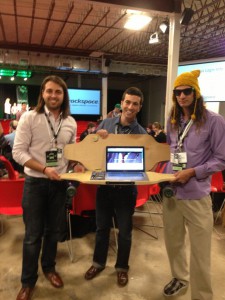 After 72 hours on the open road, six StartupBuses and 152 people landed at Rackspace in San Antonio for the final pitch competition on Thursday.
Seven teams made the finals held at Rackspace's headquarters. They included CareerMob, Grassroots.io, Ghostpost.io, Cloudspotting, USupply.me, Exversion and Nextchaptr. The Startupbus All Star Finals will be held at Rackspace's headquarters at SXSW at the Champion's Bar on Friday in Austin. That competition will consist of two teams from the Alumni bus, two selected by an online audience and the two finalists selected by Rackspace's judges.
Also, this year, Startupbus sponsored an "Alumni Bus" of people who had already gone through the experience. Those teams also gave two minute pitches on Thursday. Yank and RepCheck won the two spots to compete in the All Stars Finals.
One of the teams going on to Austin, BriefSkate from Tampa, not only created a company but actually had a prototype of their skateboard built and shipped overnight.
"Everything has been on the fly," said Darin Lewis, one of the three founders of BriefSkate. "It's just unique.''
Alexei Novitsky had a patent for a skateboard that could act as a briefcase or backpack. The skateboard allows people to store a phone, notebook, computer and more.
"I originally created it because I didn't like having a backpack," Novitsky said.
On the bus, he pitched a bunch of ideas including one for a zero gravity chamber. Then he met up with Lewis and Spencer Muratides and they learned of his skateboard patent. So they decided to create BriefSkate. They had a 3-D plastic prototype manufactured in Colorado and sent to Rackspace's headquarters. They had an actual skateboard model built in Tampa and sent to them too.
The team even got on Tony Hawk's radio show and did an interview with him while travelling on the bus.
In the end, they have a website, youtube video and prototype product to pitch at the All Stars Startup Bus Finals in Austin on Friday.