Geekdom
, the collaborative coworking site in downtown San Antonio, has launched GeekdomX, a new affiliate in which it will seek partners globally to open similar coworking sites.
Geekdom, which launched a little over a year ago, has 600 members. Its first GeekdomX location will open in San Francisco this summer.
Nick Longo and Graham Weston, cofounders of Geekdom, have plans to expand the concept nationally and internationally through select partnerships. Already six cities and one country have expressed interest in establishing a GeekdomX.
"We're looking for people with tech cred," Longo said. "This isn't about collecting royalties. It isn't a franchise. This is not about world domination. This is about finding the right people in their community to build a tech city."
Today, Geekdom unveiled the program along with a new Website. Longo, director of Geekdom, is also speaking on alternative financing for coworking spaces this afternoon at the Global Coworking Unconference Conference. Geekdom is a sponsor of the event and has a booth at the Austin Music Hall, where the two-day conference is taking place, to provide information on its new program.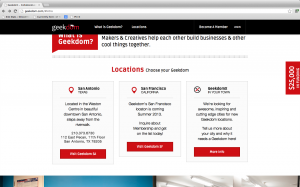 Geekdom is a sponsor of Silicon Hills News and SHN is a media sponsor of the Global Coworking Unconference Conference