BY ANDREW MOORE
Reporter with Silicon Hills News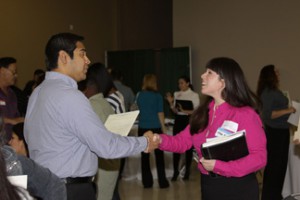 Nathan Green's company, Campus2Careers, is proof of the power of interns.
Green runs the entire operation with a staff of five interns, himself, and one developer paid full time. Campus2Careers.com is a job board for college students and graduates used by many colleges across Texas. Job boards have limitations however, and Green is now looking at a new way to connect students and employers more effectively through internship programs.
"We are the largest student job board in the state of Texas – 250,000 students and 20,000 jobs – some great numbers," said Green. "But at the end of the day, job boards suck – because there's nothing personal about them."

To add this personal element, Campus2Careers is organizing internship fairs in the major cities of Texas. Intern In San Antonio, which was held at TriPoint last Saturday, featured internship opportunities with 38 companies in or near San Antonio. A total of 450 students from 20 different schools registered for the event. It was the second internship fair the company has held in San Antonio. Campus2Careers focuses their events towards non-profits and small to mid-sized companies. It charges the companies $50 to be part of the event – a much lower price than most career fairs. The organization sees small business internships as an important part of the Texas economy.
"A student is 50 percent more likely to start his or her own small business years from now if they had an internship with a small business," claims Green. "Students today are the future small business owners of Texas."
Campus2Careers has helped place around 2,000 students in the eight events they've held so far. Their surveys indicate that companies have hired 450 interns for full time jobs.
Green spends the first 30 minutes of his fairs coaching companies on how to make the most out of their interns. He advises companies to pay interns a stipend, keep them on for at least a year, get them business cards to make them feel invested in the company, and use them to test out new ideas – such as establishing a social media presence for the company.
"You could go right now and hire an agency at about $5,000 a month to manage your social media here in San Antonio. That could be the best investment you could make," said Green. "What I am saying is — why don't you spend $500 a month with an intern and then see if it's worthwhile."
Green also gave the companies guidelines and advice for creating a structured internship program.
After chatting with the students that attended, many companies were impressed at the potential the interns offered.
"I'm surprised that as many interns know about e-commerce," said Gerry Gerardo of Orion 2013 – a company that helps other companies establish an online presence. "I was expecting just a few here and there, but a lot of them know about it."
Sportybird.io, which was just awarded funding by Geekdom in January, found several candidates that could help grow their company and have already scheduled interviews.
"I've been pleasantly surprised," said Founder Joshua Swank — speaking about the students interviewed. "Two of them we already really like for two positions."
The students spoke with non-profit companies as well. National non-profit City Year is expanding in San Antonio and working to help high school kids stay on track and graduate. Admissions Manager Abraham Johns sees interns as an important part of their operation.
"As a non-profit we don't have tons of money so it's good to get that young-adult, eager-to-do-anything vibe and put them on social media or put them on marketing for our program," said Johns.
Of the 450 students that registered, Campus2Careers estimates that around 350 showed up. Students like Kristan Heart, who attends UTSA but has not declared a major, sees the fair as an opportunity to broaden her horizons.
"Seeing these other Job offers for internships – it's kind of motivating to see what else is out there," said Heart.
For some students, the experience opened new doors.
"This is the first time I've ever done anything like this for an internship, or even looked to go into an internship," said UTSA student Ashley Stephens. "I'm getting really good feedback from every person at the different tables so it's really exciting."
To make the most of their opportunities, Green advises students to put together a strong résumé, research the attending companies before hand, and get themselves business cards so they can exchange them for a prospective employer's business card.
Campus2Careers plans to hold additional internship fairs in the future. They have already held events in San Antonio, Austin, Dallas, and Houston. Campus2Careers organizes the events in partnership with the Governor's office and the Texas Foundation for Innovative Communities. The San Antonio event was sponsored by Constant Contact – an e-mail marketing software company for small businesses.
Geekdom
of San Antonio was a promotional partner and invited several of its portfolio companies.