Heyride
is creating quite a shake up in the Austin transportation industry.
The company, founded in 2012, draws its inspiration from "the success of collaborative consumption companies such as
Airbnb
and
car2go
."
Heyride has established an alternative marketplace to cabs in Austin. It's a place where people can give and receive rides via their smartphones.
Last week, the Austin Chronicle
published a cover story on HeyRide
. Shortly after that the City of Austin
issued a statement
reporting the city had sent HeyRide a cease and desist order on Oct. 31.
The City reports that HeyRide "very closely resembles that of a taxi franchise and that any operation dispatching drivers to potential passengers ondemand requires a City Council approved Franchise Agreement, and that all drivers are required to successfully satisfy criminal background and driving history checks as set forth by the Austin City Code."
The
Austin American-Statesmen originally reported
that the City had shut HeyRide down. But Josh Huck, its CEO, reported on the Austin Startups Facebook group that HeyRide is still operating.
Q. How did you come up with the idea for Heyride?
A. I was frustrated that I couldn't get a ride during SXSW, and I wondered why I couldn't just ask someone for a lift. I decided that it was pretty ridiculous that people weren't able to connect in this way, as I'd been traveling around the world using services like Couchsurfing and Airbnb for years. So I decided to build it myself.
Q. How does it work?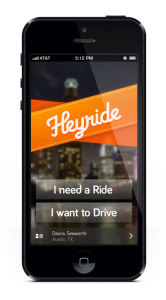 A. You fire up Heyride, say where you are and where you want to go and a driver makes a bid on your ride. You choose who you want to ride with and they take you where you want to go. You pay electronically with your phone and the credit card you have on file.
Q. How many people are signed up for the HeyRide service currently?
A. We've currently signed up almost 1000 users.
Q. How many do you anticipate will use the service?
A. We'd like to take Heyride national, so we think the sky's the limit. After Austin, we'll be exploring new markets and spreading the word.
Q. How does HeyRide make money?
A. If you give a Heyride, you take 80% and Heyride takes 20% as a service fee.
Q. Why has the City of Austin taken action against HeyRide to shut the service down?
A. Actually, they haven't taken any action yet. A cease and desist doesn't mean Heyride is going anywhere. We don't feel that the City of Austin actually understands our business model; specifically, the difference between a taxi cab company and people using a platform that enables peer-to-peer ride-sharing. Because of that, they're standing beside old-school regulations that haven't caught up to innovations in the marketplace. We're confident that once we open a dialogue, we'll be able to work together for a common goal: making Austin a better place where it's easy to get a ride when you need one.
Q. How do you plan to deal with that?
A. We're going to begin a dialogue with the city, mobilize our customers to raise their voices on our behalf, basically get people behind the idea of ride-sharing and take our case to people who can help us change any necessary regulations to accommodate this type of innovation.
Q. Who are your competitors?
A. There are a few similar services of note out on the West Coast, Lyft and Sidecar. But we've taken a different path with Heyride, creating a better user experience with more choice for the user and safety and privacy features that go above and beyond.
Q. Who makes up the HeyRide team?
A. You can find this on our About Us page at heyride.com.

Q. Is HeyRide bootstrapped? Do you plan to seek Angel of Venture Capital Investment?

A. Heyride received its Series A funding from Silverton Partners, a local venture capital group.

Q. Where is HeyRide located?

A. We're nestled in the East Side of Austin at 1306 E 7th St.

Q. What kind of car do you drive?

A. I'm the proud owner of a silver 2005 Pontiac Vibe. It's kind of a mutt, being half-Toyota, but I love it anyway. It gets 40 miles to a gallon, has leather bucket seats, a sunroof, an iPod adapter and a sunroof. Gonna be some rocking Heyrides in the ol' P-Vibe!

Q. What's your favorite local startup resource?

A. Digging on the Austin Startup Facebook Group – great place to interact in real-time with people in this community. Also, our investor Kip McClanahan's awesome blog www.ReOverthinking.com is chock full of great resources for people who want insight into VC.

Q. Anything else you would like to make a point of that I haven't asked you about?

A. I love running a business in Austin.

A new startup,