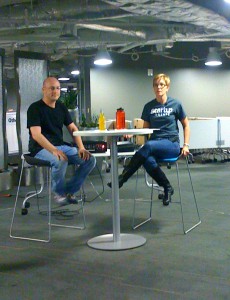 At the age of 10, Joshua Baer won a state award for piano composition.
It was one of his first endeavors at creating something new.
"Piano lessons were somewhat of a torture for me," he said. "I was forced to go for seven years."
It wasn't until he got to compose his own music that he began to enjoy the piano.
Baer recounted that story during Startup Grind, a technology meetup at Capital Factory Monday night. About 50 people attended the event.
That desire to create something from nothing has driven Baer in most of his entrepreneurial endeavors. He has created three companies, invested in dozens more and co-founded Capital Factory, a technology startup incubator and co-working space in downtown Austin.
"If I get to the end of the day and I haven't made something then I feel like a failure," he said.
Baer got interested in computers in the 1980s when America Online was big. As a sophomore in high school, he participated in a summer program at Carnegie Mellon University and decided he would study computer science there after graduating.
At Carnegie Mellon, he started his first company from his fraternity house.
"I think I always wanted to run my own business," Baer said. "My father was an entrepreneur. His father was an entrepreneur."
Baer strongly believes that "activity causes opportunity." So he became involved in ListStar, an e-mail service in college.
"I was a poor college kid and I was studying computer science," Baer said.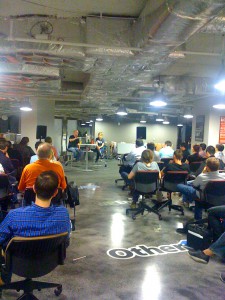 Because he had time, he read the manual for the ListStar software and began answering questions in forum groups.
"People started asking me to consult," Baer said. He charged $20 an hour. Then customers began asking him to host their e-mail servers for $50 a month.
"That was the beginning of my hosting business," he said.
Over the next two to three years, he kept doing that. He initially ran the business on the school's Internet network, but soon moved to a house off campus with friends. He took the basement and installed a T-1 Line and filled one half with servers.
"We kind of grew organically from there," he said. "I was definitely focused on the business more than school."
But Baer did graduate in 1999 but at first he was reluctant to leave Pittsburgh. His business had $200,000 a year in revenue.
"I could buy beer every weekend," Baer said. "I thought I was the king of the world. I was thinking this is it. I've got the life."
But one of his friends landed a job at Trilogy in Austin and convinced him to move. The executives at Trilogy told him he could continue to run his business.
At Trilogy, Baer participated in Trilogy University. It was a survivor-like contest inside the company in which 25 teams formed and worked on their ideas throughout the summer and in the end only the five best teams survived. Those teams got funding. Baer created a team that got funding and was later sold for $20 million. His entire team moved to Seattle, but he decided to stay in Austin.
His side business had taken on its own life. He had 25 people working out of his house.
In 2004, Baer bought a building and moved the company there. That's where he met Jason Cohen, founder of Smart Bear Software. His company was across the street.
A year later, Baer moved his company to the eighth floor of the Omni Building downtown. In 2006, Skylist won an award as one of the best places to work in Austin.
"Winning that award was one of the things I'm most proud of," Baer said. "I just wanted to build the kind of place I wanted to work at."
Creating a fun business culture attracted talented employees, he said.
"Most people will chose lower compensation if they like where they work," he said.
Baer also launched OtherInbox. Unlike his previous businesses, which he bootstrapped, he raised money to launch that company.
"There was this big idea. That didn't work," he said. "The big idea was wrong."
Baer has a strong preference to raise as little money as possible to launch a business.
"Inherently when you're raising money, you're getting out ahead of your skis," he said. "Too many people think raising money is some sign of success. It's not."
Baer also co-founded Capital Factory in 2009, fashioned after Trilogy University and Y-Combinator. Capital Factory has had three classes of five companies each. Its biggest success is Sparefoot, Baer said.
Capital Factory now occupies the entire 16th floor and is a year round program and co-working space with 175 people and 80 companies with the goal of reaching 250 people and more than 100 companies.
"It's something bigger than what it was," Baer said.
Capital Factory has a small fund that invests in companies based there. It takes a 3 percent equity stake for its investment.
The focus of Capital Factory is companies that can get profitable on $1 million or less, Baer said.
"You shouldn't need to raise money to prove an idea," he said.
Baer is also focused on software companies.
"You can create something out of nothing," he said. "The cost of doing that has dropped to nothing."