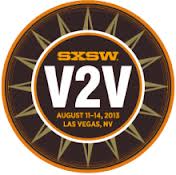 Like countless pioneers, the quintessential Austin technology, music and film conference, South by Southwest ventures West.
SXSW announced Tuesday that it plans to host SXSW V2V in Las Vegas next August 11th to 14th at The Cosmopolitan of Las Vegas. The show will focus on entrepreneurial innovation. The four day event seeks to bring together startup companies and entrepreneurs with venture capitalists and mentors. The schedule can be found here.

Badges to attend the show are on sale now at the early bird rate of $695 through Dec. 14th and the prices go up from there with a walk up rate of $1,050.
The show will select some of its speakers and presentations from those submitted through its SXSW Panel Picker process. But SXSW V2V is also accepting new applications to speak through March 29th. The event is also seeking mentors and coaches.
The SXSW Las Vegas conference also features V2Venture, a two day pitch event focused on innovative startups. That program will begin accepting applications in January.
"With the growth and popularity of the startup-related programming across the SXSW family of events, it is clear that there is enough momentum to create a wholly unique and independent event focused on entrepreneurs," SXSW V2V Producer Christine Auten said in a news release. "SXSW V2V will follow the same general strategy we have followed with other SXSW experiences. It is about turning creative ideas into reality — bringing visionaries to Vegas."
"Las Vegas is repositioning itself as a hub for innovators and digital creatives. We are excited about all the new energy in this city. This is the perfect place for this small, offshoot event to find its voice and grow as the Las Vegas tech scene emerges onto the national scene," SXSW Interactive director Hugh Forrest said in a news release. He visited Las Vegas and spoke to the technology community there last summer.