In 24 hours, about 70 volunteers produced new logos, website redesigns, brochures and more for seven charities during CreateAthon Austin.
BuildASign.com and AIGA Austin sponsored the event held at BuildASign.com's headquarters last Thursday and Friday. It's the first time Austin held a CreateAthon. Other events have taken place during the second week of September in cities nationwide. The event started in 1998 in Columbia, South Carolina as a way to offer pro-bono services to nonprofits organizations in a round the clock creative marathon.
Several charities applied to participate and seven were chosen: Austin Clubhouse, Big Brothers Big Sisters of Central Texas, Con Mi Madre, Echo, Hope Alliance, The Wine & Food Foundation of Texas and Without Regrets.
"We looked for charities that may not have the budget to get the marketing materials they need," said Bobby Chu, art director at BuildASign.com.
The event began at 6 p.m. on Thursday. The volunteers, divided into teams of eight to nine people, met with the nonprofit organizations before the event. They received a wish list from the charities. In many cases, the volunteers exceeded their expectations.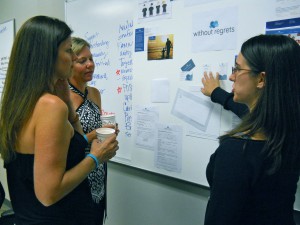 Kristin Bender, interactive art director at Ad People in Austin, spent 24 hours working with a team on creating a new logo and website and other marketing materials for Without Regrets, a foundation that helps children and families with terminally ill parents.
"You end up doing additional work because you feel so passionate about the work these nonprofit organizations are doing," Bender said.
Her group created a brochure, business cards, stationary, postcard, business forms, website redesign and new logo and a running bib for a charity race the foundation hosts.
"We literally worked until 5:55 p.m. putting everything on the board," Bender said. At 6 p.m. on Friday, representatives from the nonprofit agencies showed up to see the work. BuildASign.com also hired a DJ and provided food and drinks donated by various sponsors. Everyone celebrated their accomplishments.

In a conference room, a white board contained all the marketing materials Bender's group created on display for Che Heinroth and Tara Ballard, the cofounders of Without Regrets to review.
"It's amazing what they did in 24 hours," said Ballard. "They've helped our organization in more ways than we can express. There are no words."
"We needed help," Heinroth said. "Some of the stuff we didn't know we needed help on."
Up until the event, Heinroth and Ballard did all the creative work for the year old foundation and they've never had a budget to hire a professional.
"They did the whole gambit in 24 hours," Ballard said. "That's like six months of work."
The CreateAthon event exceeded the expectations of Dan Graham, founder of BuildASign.com.
"I've been blown away by the quantity and quality of art put out by these volunteers in 24 hours," he said. BuildASign.com was able to print the materials for the teams as they came up with the ideas and designs.
To have the finished products to present to the nonprofit organizations added credibility to the work, said Molly Wilson, spokeswoman for BuildASign.com. It wasn't just designs on a computer but actual printed-paper products.
Many of the volunteers spent the entire 24 hours at BuildASign.com working on the projects. Some of them slept for a few hours on couches.
"This kind of event self-selects the designers who are the most passionate," Graham said.
Sarah Bucheit, a student at Alamo Community College studying graphic design, created a logo of a heart with a knotted rope through it for Without Regrets.
"It was a really great experience," she said.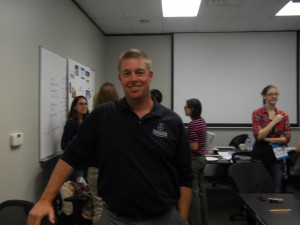 The Wine & Food Foundation of Texas received 20 products ranging from logo redesign to iconography and type fonts, said Marshall Jones, its executive director.
"They took it upon themselves to make our materials more youthful and hipper to reach a younger demographic," he said. The redesign helps to dispel the image of the foundation as an old boys drinking club, he said.
"In 24 hours, they did $25,000 worth of work," Jones said.
But they also changed a foundation that takes a long time to change and they saved Jones eight months of pain and agony in trying to convince a nonprofit board of directors to redesign and change the marketing materials, Jones said.
"They made the process of change painless," he said.