By L.A. Lorek
Founder of Silicon Hills News
No one could pitch at Moneyball for Startups last night at Capital Factory in Austin.

"This is a safe haven," said Paul Singh, partner at 500 Startups, a seed fund and startup accelerator.
"If you do pitch here, I'm going to tweet your handle out and say you're a shitty company," he joked.
That was the ground rule for attending the Moneyball presentation aimed at angel investors. The invitation-only event attracted about 100 people, including one-third startup founders.
The event is the kind Capital Factory regularly hosts, said Joshua Baer, its founder. The coworking space now has more than 30 companies and 90 people. It has the capacity to house up to 250 people, he said. Baer is an active angel investor who has put money into more than 70 deals.
"Some people are looking to invest in what they think will be the next Google," he said. "I'm looking for good teams, good companies. I don't look to pick the next IPO."

That's the kind of advice Singh shared during his 90-minute presentation on investing in early stage startup companies. 500 Startups aims to provide two to three times return on money invested and doesn't promise ten time returns.
500 Startups
is two years and three days old, Singh said. Dave McClure founded the firm, which has invested in 350 companies in 20 different countries. It's on its second fund.
Last week,
Google
acquired
Wildfire Interactive
, a 500 Startups portfolio company, which helps companies place social media ads, for a reported $400 million. The terms of the deal were not disclosed.
"I'm happier than the number that was reported," Singh said. "That's all I'm going to say. Wildfire was literally the first check we wrote on the day we closed the first fund. There is some method to this."
The entire early stage investing industry is going through a sea change, Singh said. He deals primarily with 6 month old technology startups. Locally, 500 Startups has invested in
Loku
,
PublikDemand
,
OwnLocal
and
ZippyKid
.
"We write small checks to start with and we double down heavy when the companies show some progress," he said.
The startup founders' sole job is to build a company and make something that people want, he said.
"If you are an investor, certainly you need to write checks, but you also need to add value," he said.
And government agencies need to make it easy for startups to operate in a region by providing subsidized office space and no cumbersome regulations, he said.
Investing in startups has gotten very sophisticated. Singh relies on information gleaned from numerous books including Michael Lewis' Moneyball: The Art of Winning an Unfair Game. The book, published in 2003, later became a movie starring Brad Pitt. The story is about the Oakland Athletics baseball team and its general manager Billy Beane. He used statistics and analytics to assemble a winning baseball team.
That same strategy can be applied to investing in startup companies, Singh said. Investors rely on big data and open source analytics to make decisions.
"There's this proliferation of data sources," Singh said.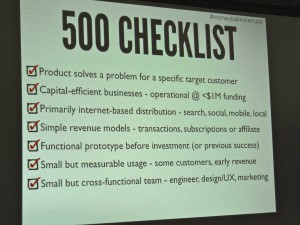 So far, 500 Startups has had more than 20 exits. Its first $30 million fund took 18 months to raise. It closed on its second $50 million fund within 16 weeks. And 50 percent of its deals are done internationally.
"As the web gets bigger the world's getting smaller," Singh said.
"Someone can start a startup now in a suburb of Brazil and then put $100 into a Google Adword campaign and market to one square block right in your neighborhood. That wasn't possible five years ago."
In fact, 10 years ago when Singh did his first startup, he had to raise $1 million to buy computer servers and get a data center and then he could start coding and working on the business.
Today, startup costs are lower than ever thanks to open source software, cloud computing, Ruby on Rails and Heroku. A startup can launch on $5,000, he said.
That's why investors should never fund pre-launch startups, Singh said.
"It's 2012 you don't need to do that anymore," he said. "Because traction is the new intellectual property."
"I'll make an assertion that if a founder comes to you and says something about having a patent, you should just run. Just run as fast as you can," Singh said. "No one should be using your money right now to file a patent. They should be building and focusing on user engagement and retention and the nitty gritty stuff. Platforms like search, social and mobile are driving that change."
A founder can launch a company and go on Facebook and have access to 800 million people through its ad network, he said. Distribution is so accessible today, he said.
So when 500 Startups looks to invest in a startup they look for small, but measurable traction. They want to see progress in the right direction.
Capital is also becoming more available than ever to startups through funding venues like
AngelList
and in other countries with government and private investment funds like Chile, Singapore and Canada.
"And what that means is that the new reality is that money follows founders in the early stage," he said. "The reality now is that the best founders don't need your money because they probably don't need any money."
That means Singh travels worldwide to find the best startup companies. Already this year, he has flown 200,000 miles and visited nine countries and 35 cities.
"It's not a badge of honor," he said. "It's the reality of what we do."
500 Startups regularly collects data on 15,000 startups around the world and has a program that triggers alerts on about 200 of those.
"If you think about it, we're chasing startups," Singh said. "There's no excuse why we wouldn't know everything about you as a startup when you walk in the door."
500 Startups also looks for signs that indicate a funding round is about to start. It looks for a flurry of activity around the startup and who is following them on social media networks. Once 500 Startups invests in a company, the founders don't have to worry about funding as long as they perform, Singh said.
"We tell our guys that we have unlimited money for shit that works," Singh said. "You just can't tell us that it's working. We have to find out."
The company doesn't invest in biotech or pharmaceutical companies. It sticks to the technology vertical and looks for companies that can get operational in six months on less than $1 million.
Red flags that send 500 Startups and other investors running for the door include founders who want help finding a cofounder and anyone who says they are outsourcing anything, Singh said. 500 Startups typically makes funding decisions in less than 20 minutes.
"People always call us spray and pray," Singh said. "I'll just say it's a process."
A lot of founders like getting funding from 500 Startups to tap into its connections and mentors. The company has created an ecosystem with 190 mentors, who must contribute office hours every month and hit certain stats and quality ratings to remain valid. In exchange, the mentors get to buy into the companies.
"My primarily goal is to buy wins not to get into the hottest deal" Singh said.
He's not chasing companies looking to go public.
"So if that thing is on TechCrunch already I don't really care about it," he said. "I probably should have been in it already. But more importantly it doesn't really matter to me if it's on TechCrunch or not. Often the best deals are actually running under the radar. So you focus on team, execution, traction and data."
First of a two part post on investing in startups and Moneyball for Startups