3 Day Startup
, a weekend entrepreneurial event, in Austin with an idea for a pet boarding site.
DeLeon's idea got picked.
That weekend she developed the project with a team of eight people and by the end, they had a demo of the site ready to go. They also changed the name from BoardMe to
Embarkly
.
Embarkly helps people find and book pet boarding facilities. It's a consolidated marketplace online with listings, prices, reviews, availability and the ability to book online. The site seeks to make pet boarding simple.
DeLeon rapidly got a prototype launched and she performed well at 3 Day Startup, said Pat Condon, one of the investors in the
Geekdom Fund
and a cofounder of Rackspace.
"One of the biggest benefits of programs like 3 Day Startup from an investor's perspective is that you really get an inside look at how startup founders perform in the pressure cooker and it really showcases how much they can get done with extremely limited resources (money and time)," Condon said. "In today's world, this extra insight for an investor can be the difference between success and failure."
The Geekdom Fund
made a seed stage equity investment in Embarkly.
The pet boarding market and pet services industry in general is quite large and Embarkly's business model is quite scalable, Condon said.
"Plus, probably even more importantly, is the fact that so many pet owners really treat pets as family members and are willing to spend money on them accordingly" he said.
Embarkly seeks to become the "Expedia" of the $2 billion pet boarding industry. Right now, the service is available in all the major metropolitan markets in Texas. DeLeon plans to expand nationwide in coming months.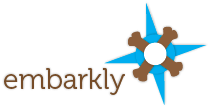 Embarkly
pitched at Texas Ventures Labs Investment Competition Finals
last February seeking $400,000 in financing.
At that time, the company estimated that it could achieve potential annual revenue of $72.5 million with a 10 percent market stake. It faces competition from Findpetcare.com, Petbookings.com, Dogboarding.com and others. The company makes money by generating leads for pet boarding facilities.
While Embarkly didn't win, it did get traction at the event. DeLeon went on to raise money from some angel investors including an executive at Home Away. Travis Skelly, one of the founders, left the company to take a job on the east coast. Today, DeLeon runs the company in San Antonio and her cofounder Orion Jensen works out of Austin.
DeLeon recently moved her company to
Geekdom
, a collaborative and coworking space on the 11th floor of the Weston Centre in downtown San Antonio.
This past weekend DeLeon spent volunteering as a mentor for
Startup Weekend San Antonio
. She knows it's possible to go from idea to a company in a weekend.
But it's not easy.
"Startup weekends really work, but you must work them," said Allen Torng, one of the organizers of Startup Weekend San Antonio. "You have to take the energy from the weekend and propel that forward. Everyone's going to be asking what you've done since. Building a startup is hard. A lot harder than a Startup Weekend. It's important to create achievable goals and be willing to do whatever it takes to meet them."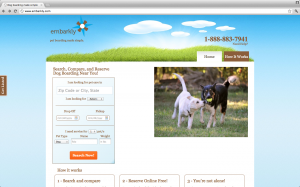 DeLeon started Embarkly because she had trouble finding quality pet care for her dog, Carson, and cats, Bonito and Bob.

She was born and raised in San Antonio but she's lived in Los Angeles and upstate New York. She has always had pets so she knows first hand how tough it can be to find quality care for them while she's travelling.

Before founding Embarkly, DeLeon worked as a mergers and acquisition lawyer for Akin Gump Strauss Hauer & Feld, LLP and as a prosecutor for two years. She has a law degree from the University of Texas Law School in Austin and she passed the Texas Bar Exam.

"And although it didn't make a difference for Geekdom fund to invest, I love the fact that Nicole left her law career behind to pursue her passion…that is just a great story," Condon said. "She's obviously willing to take the risk necessary to make a startup successful."

At her heart, DeLeon's always been an entrepreneur.

During her college years, she ran her own business online through eBay and she became one of its first PowerSellers. She ran a wholesale electronics import business into Argentina from China.

"Technology had enabled all of these things to happen," she said.

She sold about $1.2 million worth of retail goods, she said. While she liked being a mergers and acquisition lawyer, she didn't like being a prosecutor. So now she's revisiting her entrepreneurial roots.

"What we are trying to build is a site extremely tailored to pet care services," DeLeon said. "We see a huge need in the marketplace."

Last October, Nicole DeLeon attended