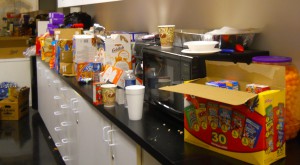 Cans of Red Bull are littered about along with empty water bottles, discarded coffee cups and Alamo Beer bottles. Bags of peanut M&Ms, Skittles, Mini-Hershey Bars, Pop-Tarts, Oreos, Rice Krispies Treats and more line the breakroom shelves.

In the Berners-Lee conference room, Josh Thielbar, a Rackspace employee by day and entrepreneur by night, pitches his BudgetAllies.com startup, a budgeting service aimed at families. He's got a webpage designed already and a five minute pitch down solid.

"That's a great pitch," said Brian Curliss, head of the Massage by Students startup, a web platform that connects massage school students to local clients.

Thielbar is packing up to head home to his wife and three kids. He is a team of one. On Friday night, he had three people working on the project, but the team dispersed and the members either left the program or went to other ventures. Still, he plans to carry on and pitch to judges on Sunday night.

"I'm going to get first or second," he said. "I didn't come here to not win."

He says his stiffest competition is TrueAbility, a team formed by four former Rackspace employees.

At that, Curliss objected. His team spent the day talking to people who run massage schools in San Antonio. He's in it to win it too. They set up a

consumer survey

to get more feedback on the service. Curliss drove down from Dallas and has spent the entire weekend sleeping on a couch at Geekdom. Greg Stein, another team member, drove in from Austin and Yosef Javed travelled from Lake Charles, La. They say one guy drove 20 hours from California to participate in Startup Weekend San Antonio. Five people make up the Massage by Students team.

Initially, Massage by Students focused on marketing massage schools. San Antonio has seven of them. But after visiting a few Saturday afternoon, they decided to "pivot" or shift the focus of their startup away from schools to students who need a Customer Relationship Marketing or CRM platform. They plan to sell listings on their site to only 18 students in addition to the massage schools and they predict they can earn recurring monthly revenue of $2,000 to $6,000 in San Antonio and up to $100,000 nationally.

On Sunday, they've invited local massage students to visit Geekdom to give hour-long massages for $20.

Chris Spence says he'll stay up the entire 54 hours of Startup Weekend. He pulled an all nighter last night and he's still up at 1 a.m. on Sunday.

He's working with his co-founder, Jonathan Khan, on Apartment Assurance, a legal service for apartment dwellers. They've done market surveys and lots of research. They're trying to hash out how much to charge for the service.

"We're trying to decide whether to charge $14.99 a month or $19.99 a month, we've got to make the numbers work," Spence said.

"I think it should be $9.99," Khan said.

And so it goes in the life of a startup. By the time they've got to pitch later on Sunday, they'll have all those details nailed down.

The crowd starts to thin out around 1 a.m., but a few people are letting off steam playing games of ping pong. The Trakk-Em team is still working in the commons area.

It's after midnight at Geekdom and nestled in conference rooms throughout the 11th floor, groups of entrepreneurs continue to hash out business plans, design websites and figure out problems vexing their startups.