The GIF, Graphics Interchange Format, is 25 years old.
And it's gotten a makeover.
The annoying images of flashing e-mail boxes and under construction signs from the early days of the Internet still exist. But few people use them.
Instead, companies looking to get the attention of a highly distracted Internet audience have turned to the video GIF.
And Cinegif in Austin wants to create special GIFs for them.
"Animated GIFs are making a comeback," said Graham McFarland, Cinegif's CEO.
Some people say the GIF killed Myspace.com because everyone junked up their profiles by placing numerous animated files on them, McFarland said. But GIFs are one of the most popular postings to Tumblr, the popular blogging platform, he said.
"GIFs are making a comeback because they can be easily put together to look like a video file."
Cinegif is bringing this trend to businesses, McFarland said.
Companies can put the video GIFs into e-mail campaigns and social media campaigns, McFarland said.
"Anywhere you can use an image file you can use an animated GIF," he said.

Right now the biggest creators of animated GIFs are teenagers and high-end fashion photographers in New York and Los Angeles, McFarland said.
Earlier this month, Burberry's tweeted animated GIFs from its London Fashion week show.
Cinegif is doing a handful of pilot projects with small businesses locally and nationally to bring the technology to a wider business market, McFarland said.
The startup company recently launched its Cinegif App for the iPhone that lets consumers share 10 second video clips within a text message.
Cinegif has created a video conversion software that reduces file size and makes sharing short videos easy. The company has three patents on its technology and one more pending, McFarland said.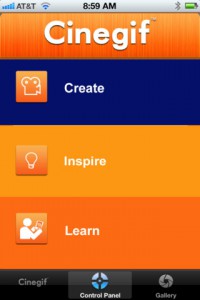 With the Cinegif video app, which is free, anyone can send a 10 second video GIF in a text message. The size of the file is compatible for mobile delivery with any telecommunications carrier, according to the company.
Doug Richardson, a professional photographer, came up with the idea and formed the company in 2006, but he's only recently begun to commercialize it. The company has some angel funding and plans to seek additional funding later on this year. Cinegif currently has three employees and two contract employees.
Cinegif plans to host a 20 second film festival in Austin later this year to raise the awareness of what GIFs are and how they can be used, McFarland said.
"The goal is to get the technology out and into the hands of creative people," McFarland said.