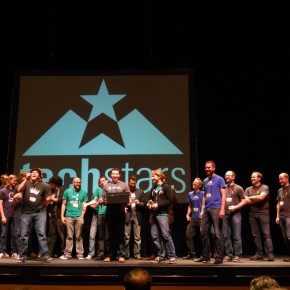 Rackspace wants to do for San Antonio what Dell has done for Austin, said Graham Weston, its chairman.
"You're here at the very beginning of something big" Weston said.
That was evident Wednesday at the Charline McCombs Empire Theatre in downtown San Antonio when 11 teams took to the stage to showcase their cloud-based businesses at the first ever TechStars Cloud Demo Day.
Throughout the nearly three hour event, the audience of about 350 people, which included angel investors and venture capitalists, applauded their accomplishments and they laughed a few times too.
Jason Seats and Nicole Glaros served as managing directors for the TechStars Cloud and another 75 entrepreneurs volunteered to mentor the companies. Glaros spent three months in San Antonio, relocating here from Boulder just weeks after having a baby.
While most of the companies asked for financing, Seats asked the audience not to report the details of the deals because of Securities and Exchange Commission rules on fundraising. In general, though, all of the companies have already raised money to finance their operations.
To kick things off, Dirk Elmendorf, co-founder of Rackspace, introduced the first company.
"I liked Keen from the very beginning," he said.
Keen.io gives mobile developers the data they need to optimize their applications.
"The Keen team has that magic" Elmendorf said.
That team includes Ryan Spraetz and Dan Kador, formerly with Salesforce and Kyle Wild, formerly with Google. All of them are engineers, best friends and they have been working together since high school 13 years ago. All three quit their jobs within three days of starting the TechStars Cloud program. They relocated from San Francisco and moved into an old 4,000 square foot bed and breakfast in the King William neighborhood.
"What we came in with three months ago is so far from what we have created today," Spraetz said. "The Tech Stars Cloud program has just been amazing."

Keen.io reinvents analytics for mobile applications, Spraetz said.
"Every mobile application is its own universe filled with information generated by millions of users," he said.
Keen.io allows companies to create their own custom analytics using its platform.
"In the last three months we've designed and built the first version of our program," Spraetz said. Today, more than 100 mobile apps use Keen.io to track their analytics.
"We're looking for active mentorship from smart and engaged investors," Spraetz said.
The next presenter, Emergent One created a platform that allows any company to easily create an Application Programming Interface or API, which is a set of tools for building software applications.
"APIs are immensely valuable for all kinds of businesses," said Kevin Pfab, its CEO. Best Buy recently introduced an API that it projects will double its business, he said.
But right now, building APIs is hard, Pfab said.
"What may seem like a small project turns into a massive one," Pfab said.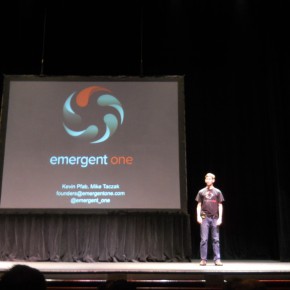 That's where Emergent One comes to rescue. It has an API generation platform that allows a company to create a custom API in hours instead of months and years, Pfab said. He showed a technical demo to illustrate how easy the process was. The platform also provides deep analytics on how a company's API is being used, he said.
"The entire API solution is being offered right out of the box," Pfab said. "And you can get started in minutes."
Emergent One's platform allows a company to build a new API faster and cheaper than ever before, he said.
The baby-faced Pfab also drew the loudest laugh from the crowd when he announced that between himself and his partner, Mike Taczak, they also "share 46 years of experience being alive."
Mentor Paul Ford with SoftLayer introduced Callisto.fm, a real-time engagement analytics site for media creators and distributors. Its platform can tell them who's using their content and for how long. It wants to replace Neilsen and Arbitron's media ratings services.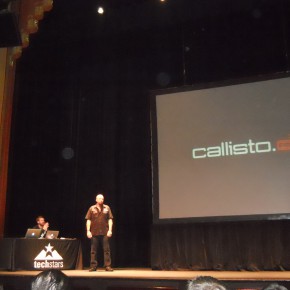 Callisto.fm provides real-time metrics for online content.
"When your video goes viral in Japan you will know it before anyone on the planet," said Michael Sitarzewski, Callisto.fm's cofounder and CEO. The platform also provides information on social activity like how many times the content has been tweeted or posted to Facebook, he said.
"This stuff is amazing and we're having a blast building it," he said.
Callisto.fm is the only company measuring real time user engagement across all media platforms, Sitarzewski said. It offers its products with pricing starting at $50 a month.
The other team members include Travis Silverman, Richard Jones and Chris Roth. Callisto.fm is fully funded. It has already raised $700,000 from DFJ Mercury and TechStars. But it might seek another round of funding later on this year.

Conductrics, which helps companies increase their customer conversions via its platform, has already snagged Pfizer and Under Armour as customers, said Matt Gershoff, co-founder.
The company's software allows companies to tailor their website to different customers depending on where they are coming from and what their interests might be. For example, Under Armour can tailor its site to offer cold gear to people from snow states and heat gear to people from sunshine states, Gershoff said.
Conductrics has created a very simple API that lets developers build apps customized for different customers, he said. The company has already optimized 12 million decisions for its customers.
In addition to Gershoff, Nate Weiss is a co-founder and chief technology officer.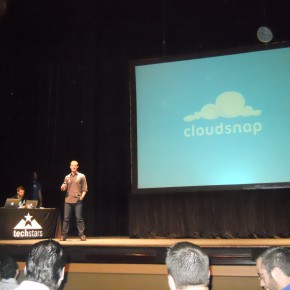 CloudSnap is tackling the Software as a Service, known as Saas, marketplace with a Saas in a box solution, said Colin Loretz, co-founder.
"Saas spending is projected to reach $16 billion in 2013," Loretz said.
Cloudsnap allows web applications to connect together. About 60 percent of companies are trying to integrate their web applications and they find the process time consuming, expensive and risky, Loretz said.
"We know these issues firsthand as we used to be those expensive consultants," Loretz said.
For example, Unbounce can't take leads and put them into Salesforce. Cloudsnap fixes that. It makes it easy to snap together your application with out writing any code, Loretz said. CloudSnap supports more than 100 applications today, he said.
"Cloud adoption is next space race," he said.
Cloudsnap connects Basecamp and Salesforce together and allows them to share files, Loretz said. It's the glue for applications on the Internet.

Distil.it is a content protection network that stops malicious web scraping bots from stealing content from digital publishers like CNN and Engadget.
On the Internet, web scrapers can steal what used to be unique and valuable content and as a result digital publishers lose 146 million visitors daily, said Rami Essaid, co-founder and CEO. That equates to $5.5 billion annually stolen, he said.
"Existing hardware solutions are not effective in real time," Essaid said. "Distil is the answer."
Distil, through customized algorithms, identifies malicious bots and stops them from taking a website's content, he said.
"Our platform is easy to step up," Essaid said. "Our network is extremely intelligent."
The market in the U.S. is worth $1.3 billion, Essaid said. It has struck recent partnerships with SoftLayer, Rackspace and ZippyKid.
Next, Lew Moorman, president of Rackspace introduced Andrew Cronk, cofounder and CEO of Tempo DB.
"The demand for the solution for this problem is about to explode," Moorman said.
Tempo DB is a big data analysis company that is a database service for time series data.
"We make it possible to store and instantly analyze the massive streams of measured data that break traditional databases," Cronk said.
"If you thought we had big data today you haven't seen nothing yet" Cronk said. He calls it "massive data" that is being generated by all kinds of connected device or "the Internet of things," he said.
"This is an incredible opportunity to measure and learn more about our tools," Cronk said.
Temp provides visualization, analysis and storage of data in a set of tools "that are an analyst's dream" Cronk said.
"We've got everything you need to start getting real value from your data today," he said.
For example, one customer, InThrMa operates smart meters that generate a half a billion data points per thermostat per year, Cronk said. With Tempo, InThrMa is able to capture and analyze that data. With the data, InThrMa is able to provide all kinds of new insights including energy use forecasting for customers.
"We are working with companies like this in three markets today – energy, networks and sensors," Cronk said. "We're currently streaming in over 25 million new data points everyday."
The team includes Cronk, Michael Yagley, CTO and Justin DeLay, CMO
"We are finally building a system we wish had existed years ago," Cronk said.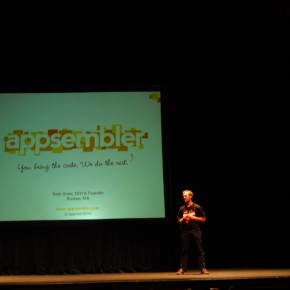 Appsembler is a platform that allows software companies to launch "Software as a Service" or "SaaS" applications in minutes, not months, said Nate Aune, the company's CEO and founder.
Appsembler offers a "Saas in a box solution" that includes hosting, billing, support and provides and overall integrated solution, Aune said.
It already has 5,000 customers using the platform and 3,000 more on a wait list, Aune said.
Flomio makes it easy to build NFC and RFID enabled applications, said Richard Grundy, its co-founder and CEO.
"We extend the web into the physical world," he said.

Flomio allows developers to early create NFC enabled applications and cloud-based updates are easily deployed to all devices, Grundy said.
He used a neighborhood coffee shop as an example. The owner might want to create a mobile loyalty app for the business. That's easy to do with Flomio, Grundy said.
It has already sealed partnerships with Texas Instruments, Motorola, Trimble and ACS, he said.
The other members of the Flomio team include Jonathan Hilley and John Bullard.
Weston, chairman of Rackspace, introduced Vidmaker, an online video collaboration site.

"When you think of Vidmaker, I want you to think about one company: Instagram," Weston said. He's already an investor in the company, which he thinks will do for video what Instagram did for still photographs. Facebook recently bought Instagram for $1 billion.
Vidmaker makes it easy to manage and edit video on any device, anywhere with anyone, said Dale Emmons, its cofounder and CEO.
"It's going to unleash a wave of creativity," he said.
Vidmaker is targeted at video hobbyists and enthusiasts, Emmons said. A need exists for an easy to use collaborative video service online, he said. Everyday, people do 300,000 searches on Google for video editing software, he said.
Vidmaker hasn't launched yet, but when it does it expects to offer a fermium version of its software for people who post content with a creative commons, allowing others to use it. It will also offer a starter package at $10 a month for 10 gigabytes of storage for a private account. It's rates scale up from there.
Emmons and Ryan Bolyard previously worked on video editing software at Sony. The other cofounder, Yuri Zapuchlak worked at Intuit.
"When we joined TechStars we had no user interface," Emmons said. But in three months of 18 hour days, they built a beautiful user interface and they expect to launch the site in a beta test soon.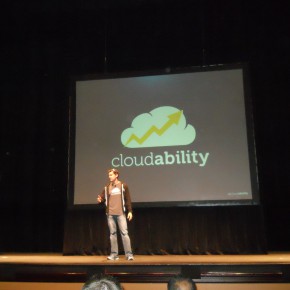 The last company to present was introduced by Pat Condon, cofounder of Rackspace.
Cloudability was one of the most seasoned companies on the stage. It had already graduated for an incubation program in Portland, its hometown and it had closed on a $1.2 million round of financing from Trinity, Walden plus Portland investors. Cloudability makes a platform that allows companies to monitor and manage how much they spend on the cloud. It's free for companies that earn less than $2,500 a month and pricing goes up from there with a small business edition, enterprise edition and partner edition. It has already signed up 2,200 companies in more than 80 countries.
"We want to get this tool into the hands of every cloud business user," said J.R. Storment, cofounder with Mat Ellis and Jon Frisby.
Along those lines, Storment announced Rackspace, one of its partners, will begin offering Cloudability to all of its 175,000 users for free.
"That's really just the beginning," Storment said.
Cloudability has nine employees and has a clear path to profitability this year, Storment said.