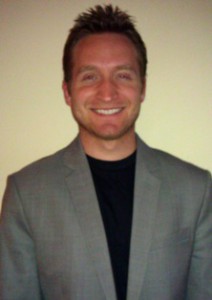 SceneTap wants you to know what's going on at your favorite bar before you get there.
Today, the startup officially launches a network of cameras in 30 bars around Austin including Soho Lounge, Trophy Club, Haven, Ranch and Library that feed real-time information into its SceneTap mobile phone app and website. The network will expand to up to 50 bars with the next few months.
"It's probably going to go beyond bars to other venues like coffee shops, retail outlets and restaurants," said Cole Harper, co-founder and CEO of SceneTap. "It's our goal to let people know what's going on in their favorite place."
With the SceneTap mobile phone application, which is available for free, people can survey the crowd and see how many men and women are at a particular bar. They can also find out what specials are being offered and what band or DJ is playing.
SceneTap gathers information from video cameras and collects statistics on the demographics of who's there. It then compiles the stats into percentages and posts them to the site. Consumers can't see the data associated with the stats to protect privacy, Harper said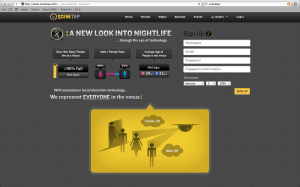 The SceneTap app can tell you whether a bar is 85 percent full and the male to female ratio along with the average age of the patrons. The company uses facial detection software to compile these statistics.
"We're not collecting any individual information," Harper said. "There's no information that's collected or stored. People can't see individual records."
SceneTap aggregates its information every half hour and does not store any footage from the bars, Harper said
"It's entirely automated. The video stream is being perpetually interpreted by the software, which creates rows of data," Harper said. "The main purpose behind the data is to let you know where the best party is at."
The data also lets the bars know whether they are spending their money wisely on entertainment to get customers in the door. If a bar spends $300 for a DJ and several hundred people show up then they'll be able to track stats on the success of their promotions, Harper said.
The main way SceneTap makes money is through advertising. It has 45,000 users currently, which it hopes will rise to 50,000 tonight. It offers companies a very targeted market, Harper said.
The average bar last four years and night clubs last just two and a half years, Harper said. SceneTap can give the owners of these establishments real-time data on their bars and clubs that help them to manage them better, he said.
SceneTap launched in Chicago in December of 2010 and raised nearly $2 million in a seed fund from friends, family and angel investors. SceneTap is currently negotiating with investors to raise at least $3 million in a series A round, which it hopes to close in the next 60 to 90 days.
"We expect we'll have some rapid growth in next six to twelve months" Harper said.
More than 50 venues in the Chicago area use SceneTap and plans for another 20 in coming months. The company moved to Austin late last year. Its headquarters are in house near Zilker Park where five of the guys live and work. SceneTap has 16 employees and another 30 sales consultants nationwide.
Within the next six months, SceneTap plans to expand into other markets including Boston, Philadelphia, Washington, D.C., Baltimore, Atlanta, Phoenix, San Diego and San Francisco.
Privacy is one issue that Scene Tap takes very seriously, Harper said.
"We go well out of our way to ensure consumer privacy," he said. "Our technology, as scary as it may seem, is less intrusive than a lot of technologies that have been out there in the last 10 years."
The advantage is that a tourist visiting Austin can either go to Yelp and find a review of a bar or check out SceneTap and find out what's happening there right now, Haper said.