By Susan Lahey
Special contributor to Silicon Hills News
When people write about Austin start-up Famigo's new tool, the Sandbox, they focus on the benefit: Parents can pass their mobile phones to children, touching the Sandbox icon, and restricting that kid to a safe world of age-appropriate games. In the Sandbox, he can never dial Mom's boss, delete all her email or send a personal photo to her best client.
And really, that is a great benefit for an app. But that's not what's groundbreaking about Famigo. What sets this company apart is that, unlike many developers focused on doing cool stuff with smart phones, Famigo is committed to transforming mobile devices to something that works with families, the way families work. From its apps to its website, written in regular English, its focus is on the organic, dynamic, diverse, messy ecosystem known as a family.
"Most developers aren't thinking about the individual," said Bart Bohn, formerly lead advisor at the Austin Technology Incubator and currently co-founder and Chief Operating Officer of Ravel Data. "Famigo is focused on a family solution, not a specific piece of content. That's really unique. Q (Beck, Famigo cofounder) talks about the four quadrants: If you can engage both young and old, men and women, that's a home run. That's approaching a family as a family."
Q Beck (and yes, it's Q, like Harry S Truman was just S) learned about engaging families from the masters. A Texas native, he studied at Columbia University in New York and at Columbia College and worked in film for companies such as Nickelodeon and Dreamworks. He worked as a product development executive, choosing films to make as well as picking directors, casts and more.
He loves the family as an audience; loves how a movie like The Princess Bride or E.T. can draw family members into a powerful shared experience.
Then, one day, he was staring down at Australia's Great Barrier Reef from a helicopter. His boss's kids were sitting behind him, playing games on mobile devices, oblivious to their surroundings. And Beck had an epiphany. Just like great media can pull families together, sometimes media can isolate people. That's when the seed of Famigo started to germinate.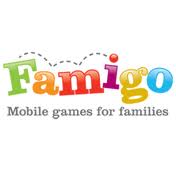 Beck was a little disillusioned with the film industry: Too little opportunity to produce really original work; too many remakes and predictable plots. He wanted to instigate something powerful for families and push back against forces dividing them. He wasn't sure how, but he could see that smart phones played a big role in people's lives.
"These aren't just phones," he said, indicating his smart phone. They're computers. For people born after 2000, they're the first computer they'll ever own. I knew I wanted to do something to make this emerging technology work with families."
He pursued an MBA at the University of Texas. And in his second year, met cofounder Matt Sullivan who had just earned a Ph.D. in neuroscience. Both of them were interns at the Austin Technology Incubator. Beck and Sullivan knew what they wanted to do, but they needed a software developer to make it work: At a speed-dating event for start-ups at Capital Factory, an Austin-based tech startup accelerator, they met Cody Powell, a Dallas native who had been making "horrible websites" for his dad's friends since he was 14.
They launched in 2009. At first Famigo created family friendly games for mobile devices, but then the founders saw that game apps were proliferating like kudzu. So they evolved to become the company that helps families find the best apps, the right apps for their kids' age, the family culture. Famigo has programs that cull apps for various attributes. The good ones are then tested, evaluated and rated by actual human beings working for the company—often interns. Famigo keeps track of what games kids play and the more popular ones rise to the top of the parental review list. Famigo also sends parents a weekly email telling them what games—educational or otherwise—their kids are playing and recommending other games based on what kids already play.
Then, a few weeks ago, Famigo introduced the Sandbox.
As far as Keith Gaddis—father of three-year-old Francis is concerned—the Sandbox is a godsend. A software developer, Gaddis is usually in heavy demand from clients. So he couldn't quite get why, suddenly, he just stopped getting calls and emails. Turns out Francis had gotten hold of the shiny phone with the colorful buttons and blocked everything. Gaddis was one of the 3,000 or so Beta customers for Sandbox and he chose an android phone partly because he could use Sandbox on it. (The Sandbox doesn't currently work with iOS though Famigo's other services do). As of about 10 days after launch, Gaddis is one of about 10,000 Sandbox parents.
"Francis will grab the phone, open it up– he knows what the icon looks like–so he just pushes the button because he knows that's where his games are….." Gaddis said. "Once he's in there, he's locked in (until a parent releases the phone with a special code)." Nor can kids click on ads on any of the apps. Pushing the ad icon takes them right back to the opening of the Sandbox.
"We supervise what he plays very carefully. This is big win for anybody who has kids who know how to use your phone."
Most of the Famigo team is young and kidless. Cody Powell has one-year-old August. So the company has created a parent advisory board. Beck sees this as a plus. Back in the movie business, he said, if an executive's six-year-old fell in love with dinosaurs, there was suddenly a directive from above to make lots of dinosaur movies. With Famigo, they're not structuring the products and services for one family, but for all families. Families can decide what apps are appropriate or not for their own kids.
Famigo's working on customizing the experience so each family member can have his or her own profile and set of games, creating a "virtual living room." The important thing, Beck said, is creating a shared experience, the way Angry Birds has in many families, or Princess Bride did when he was a kid.
Some day, Bohn of Ravel Data said, Famigo's focus on the customer may become a best practice in the industry, rather than a distinguishing characteristic: "They have that kind of brand potential."