About 40 aspiring entrepreneurs gathered Friday afternoon at Geekdom downtown for 3 Day Startup San Antonio.
They brought sleeping bags, backpacks, computers and tents.
They had plenty of fuel to get them through the weekend with two refrigerators filled with Red Bull, sodas, gatorade, juice boxes, water, beer and fruit. An entire shelf held dozens of different kinds of snacks including Cheez-Its, Oreo cookies, Snickers bars and granola bars.
They spent an hour getting to know one another before breaking into eight color-coded groups to brainstorm ideas to create a new company. From 3:30 p.m. until 7:30 p.m. they worked in different offices hashing out their ideas on white boards. More than a dozen mentors and organizers also helped the participants formulate their ideas.
Luz Cristal Glangchai, associate director of Trinity University's Center for Entrepreneurship, oversees the program.
Nick Longo, who founded Coffeecup Software, and now heads up the Geekdom, and Todd Morey, who helped create Rackspace's cloud business, would pop in and out of the offices, offering advice.
Longo told the green team to keep in mind "what problem am I trying to solve? How large is my market? And can I execute it?"
He told them that there are a lot of sites like Prezi, Woofoo forms and Chargify that already exist that could help them mock up a website.
Morey told them to keep in mind the cost of acquiring customers.
"Going viral is not a strategy," Longo said. "Google Ad words is not a strategy."
The green group came up with an idea for putting a friendly face on a computer repair service targeted at the elderly and people with learning disabilities.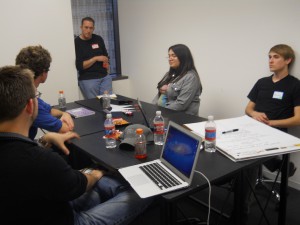 Longo recommended googling "The Pirate Metrics" on acquiring and retaining customers and to follow advice articulated by Eric Ries in his book The Lean Startup.
"If it takes too much money upfront it's non-executable," Longo said.
The yellow group listed a bunch of problems on a white board and then brainstormed solutions for them. They included a parking app to reserve a parking space, a grocery list helper app and a language app to help learn a foreign language.
Ryan Kelly, owner of Pear Analytics and a mentor, suggested the group gamify the language app.
"Make learning a language more fun," he said.
Around 6 p.m., the groups broke for a catered dinner of Dicky's barbecue brisket sandwiches, potato salad and beans. And then they went back to their offices to create powerpoint presentations and solidify their ideas.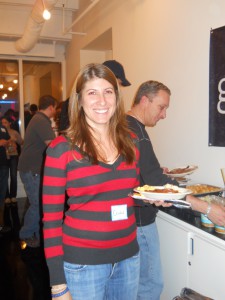 At the pitch session, the groups presented their ideas on a giant screen. The pitches ranged from a dating app to cloud computing platform. The first pitch was for GolfAverage.com, an in-depth statistics site for golfers, which keeps track of a current game and past performance, followed by Penny for Your Thoughts, a documentary on homeless people and a sustainable clothing line.
Other ideas included BookZingo.com, a marketplace for college students to sell their textbooks, Transparent Mortgages, a site for first time homebuyers and those with credit issues, Clan, an app for music sharing, Spear Phishing, a virus and malware prevention platform, Hole in the wall, a local restaurant review site, Approachab.ly, a dating app, Kudotree, a personal recommendation site and Babbling, a program to learn a foreign language intuitively.

In the end, the group voted by putting their heads down with closed eyes and raising their hands for the idea with the greatest chance of success and the idea that they most wanted to work on. Each member had two votes.
Ideas around the hot trends of mobile, social and location garnered the most interest. The final five ideas with the most votes included GolfAverage.com, Approachab.ly, Babbling, Clan and Spear Phishing. The group leader stood before the crowd and told them what kinds of skills were needed to build out the company and then people decided whether they wanted to work for them. The largest groups formed around Approachab.ly and Babbling. Around 10 p.m. they headed for offices to get back to work. Meanwhile, Clan bit the dust. And Hole in the Wall re-emerged as a company with five people wanting to work for the idea.
"That's going to happen," said Rachit Shah, one of the original founders of 3DS.
"Another company will probably fail before the night's over," said Cam Houser, another original founder of 3DS. Four University of Texas graduate students in business, computer science, engineering and law started 3 Day Startup in 2008 and now they run it full time as a nonprofit organization.
"It's an entrepreneurship education program for university students," Houser said. "We were grad students and didn't feel like the student potential for entrepreneurship was being met. More could be done to help students start ventures."
The idea is a popular one. 3DS has put on programs around the world including China and Germany.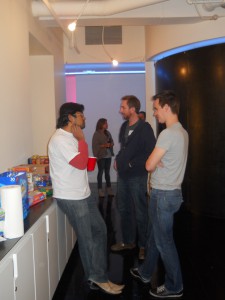 "You have to apply, submit a resume, pitch an idea and get interviewed," Houser said. "Most of the people who want to participate in a 3DS are pretty passionate."
The San Antonio program was the 17th 3DS.
"It's free to participants," Houser said. "We're giving them a scholarship." It costs around $500 per person which includes catered meals, snacks and drinks and place to hold the event. Corporate sponsors contribute the bulk of the money.
"The only time they leave the building is to talk to customers," Houser said. "On Sunday, their eyes are bloodshot and they smell bad but they're really fired up."
The 3DS organizers do have rules. They don't let pre-existing companies pitch and they don't allow anyone to pitch porn sites.
"It ranges from an idea on a napkin, up to they've done a lot of market research and they have a site in mind," Houser said. "We provide an exciting and high energy environment that resembles a startup with long hours and overlaying order onto chaos.
So far, 16 companies have spun out of 3Ds that have raised $4 million, Houser said. They include Hoot.me, FanDash, Console.FM and Famigo.
FanDash, formerly BandDemand.com, is one of the startups to spin out of the San Antonio 3DS program.

The founder of Hurricane Party pitched his idea but no one wanted to do it, Houser said. But he did meet five of his six members of his team at 3DS, he said. The company is now called Foreca.st and is doing well.
Christian Salmagne from Aachen, Germany, brought 3DS startup to his hometown last summer. Forty students met at the RWTH Aachen University and at least one of the companies is still up and running, Salmagne said. The company is Tamyca.de, which stands for Take My Car. It's a peer to peer personal car sharing site.
Salmagne attended the San Antonio 3DS. He's currently doing a three month fellowship at the Austin Technology Incubator to learn about entrepreneurship so he can take his knowledge back to his hometown to help with Germay's startup community.
"I'm helping people and observing," Salmagne said. "I like to experience this energy. You get addicted to it."