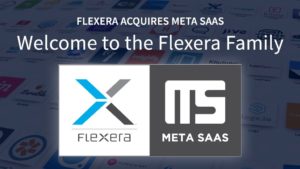 Austin-based Meta SaaS, which runs a platform for managing software as a service subscriptions for companies, got acquired by Flexera, a private software company based in Itasca, Illinois.
The financial terms of the deal were not disclosed. Meta SaaS, founded in 2016, raised a $1.5 million seed stage round last year led by Dallas Billionaire Mark Cuban.
Flexera, founded in 2008, has grown through a series of acquisitions of software companies with Meta SaaS being the latest.
"The number of SaaS apps in use is skyrocketing – especially among small and mid-size companies. As much as a third of those applications aren't even being used," Tom Canning, Vice President of Strategy at Flexera, said in a news statement. "And, because companies can't see or manage SaaS apps in use across the enterprise, cost and risk are out of control. We're now able to help customers rein in SaaS spend on more than 32,000 SaaS applications – vastly exceeding the capabilities of any other SAM supplier."
Meta SaaS tracks company online subscriptions and finds the ones that are not being used frequently or have been abandoned altogether. It ultimately saves a company time and money.
In addition, the Meta SaaS software can notify a company when an employee leaves to end their access to subscription applications.
With Flexera's technology and the latest acquisition of Meta SaaS, its customers can now identify more than 32,000 SaaS applications such as Salesforce, Office 365, Slack and Box, and manage them more easily. For example, one telecommunications company used Meta SaaS software to discover millions of dollars of spending on 295 unsanctioned products from 266 different vendors, according to Canning.
"We're thrilled to be acquired by Flexera because of their superior solutions and leadership in the SAM industry. Just as important to us, however, is Flexera's broad commitment to help customers optimize all their cloud assets – from infrastructure and software running in the cloud, to SaaS. No other SAM vendor comes close to Flexera's vision and ability to execute," Arlo Gilbert, Meta SaaS's co-founder and CEO, said in a news release. Gilbert and CTO Scott Hertel co-founded the company.
Meta SaaS's operations are going to continue in Austin, according to a blog post by Gilbert on the company's website.