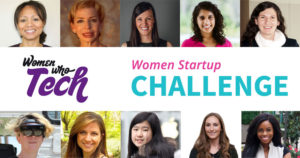 Two women-led startups from Austin are among the top ten finalists in the nation for the sixth Women Startup Challenge: Emerging Tech.
The startups include Astral AR, a drone piloting system that uses the Internet of the Things and helps law enforcement stop bullets, and detect guns and bombs through walls. Leah La Salla is the founder of Astral AR, which is based at Capital Factory in Austin.
The other startup is re:3D: Creators of Gigabot, an industrial human-scale 3D printer that prints from plastic recyclables creating access to local and sustainable manufacturing material, which decimates costs and scales barriers in additive manufacturing. Samantha Snabes, CEO and co-founder, recently won $1 million in the WeWork pitch competition.
The startups will pitch on March 6th at Google's New York campus, for a chance to win $50,000 in an event sponsored by Women Who Tech in partnership with Craig Newmark Philanthropies. The finalists were selected from nearly 300 applications nationwide.
"A meager 7 percent of investor money goes to women-led startups. Through the Women Startup Challenge, we aim to shakeup a culture that has made it exceedingly difficult for women entrepreneurs to access capital,"Allyson Kapin, founder of Women Who Tech, said in a news release. "We're excited to showcase top early-stage women-led startups that are at the forefront of technological innovation: building drones and holographic displays, developing cutting-edge healthcare to save lives, creating renewable energy sources, and improving environmental sustainability."
The Women Startup Challenge has worked with over 1,700 women-led startups, awarded over $1 million in cash and prizes, and seen alumni collectively raise over $20 million, according to a news release.