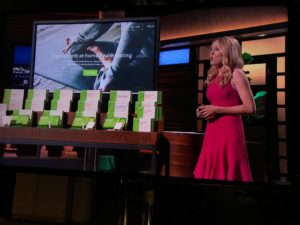 EverlyWell, the Austin-based startup that makes at-home healthcare tests, asked for a $1 million investment for a 5 percent equity stake in its company, on Shark Tank Sunday night.
Julia Cheek, the founder, and CEO, ended up with a $1 million line of credit at an eight percent interest rate for a five percent equity stake from Shark Lori Greiner.
"We actually desperately need a line of credit," Cheek said as she accepted the offer.
EverlyWell sells 13 at home lab testing kits for everything from checking cholesterol to vitamin D deficiency. Other kits check for sexually transmitted diseases, thyroid, metabolism and more.
Cheek founded the company in 2015 in her hometown of Dallas. She moved the company to Austin about a year later. EverlyWell has since raised $5 million in total funding.
EverlyWell had revenue of $2.5 million last year and expects revenue of $5 million this year, Cheek told the sharks. The company's monthly run revenue rate is $400,000 and is growing 20 percent month over month, she said. The company's burn rate, the amount of money it is losing every month because of expenses, is $150,000 a month, Cheek said.
Mark Cuban went out early saying the business would need a lot of money to scale and he thought it would face increasing competition. Sharks Robert Herjavec and Barbara Corcoran also dropped out.
Guest Shark Rohan Oza said the at-home lab testing business is hugely expensive and it would take tens of millions of dollars of investment to make it a success. He dropped out too.
But Greiner thinks because of the state of healthcare in the country right now is so precarious that EverlyWell has the right product at the right time. She vowed to use her QVC connections to market EverlyWell nationwide.
Cheek appeared pleased with the deal and decided not to make a counteroffer.