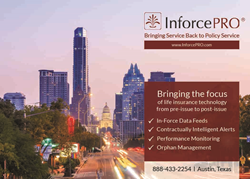 InforcePro, a life insurance technology platform, announced Tuesday that it has closed a $4 million venture capital round.
To date, the Austin-based startup, with 25 employees, has raised more than $5 million. It launched its platform in 2014. Its software now monitors more than two million life insurance policies.
Cameron Jacox and Karan Kanodia founded the company.
"This financing will help enable us to grow our team by roughly 400% over the next 24 months to more effectively capitalize on the booming demand for our insurance policy monitoring software, allowing us to help more than 600 million global policyholders' identify contract options, performance changes, and suitability" Jacox said in a news release.
Austin-based LiveOak Venture Partners made the investment.
"LiveOak's investment will help InforcePRO capitalize on the global demand for their solutions, and accelerate the company's pace of product innovation," Venu Shamapant, general partner at LiveOak Venture Partners, said in a news release.