Reporter with Silicon Hills News
Officials with Rackspace and Intel Thursday officially cut the ribbon on the OpenStack Innovation Center at Rackspace's headquarters.
"We are going to make this the launching pad to make OpenStack and the entire cloud available to everyone in the industry," said Imad Sousou, vice president of the software and services group and general manager of Intel Open Source Technology Center.
"And, yes, we're hiring," Sousou said.
Rackspace and Intel officially announced their partnership for the OpenStack Innovation Center in late July. On Thursday, a few hundred people gathered in front of the new center at Rackspace's headquarters in San Antonio to cut the ribbon on the facility where they will be working.
Rackspace has more than 200 employees working on OpenStack every day and they will occupy the OpenStack Innovation Center, which is in the fourth phase of development at the old Windsor Park Mall, which Rackspace refurbished into its headquarters, which Rackspace employees call "The Castle."
In addition to the Rackspace employees, Intel will have developers at the center. Already, eight Intel developers have moved to San Antonio from Santa Clara, California, Arizona, Dallas and other Intel locations around the country to work here.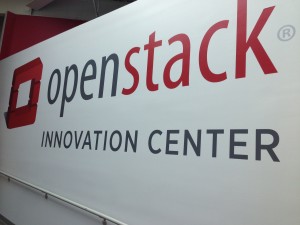 The OpenStack Innovation Center will add even more technology talent to San Antonio, said Darrin Hanson, vice president and general manager of Rackspace Private Cloud. And Rackspace's partner in providing the tech pipeline of new talent locally is the University of Texas at San Antonio, he said.

Already, UTSA selected ten students to work as interns initially at the center and 30 more will be joining the program in the next year, said Mauli Agrawal, vice president of research at UTSA.

"By opening this innovation center, we're creating the largest OpenStack development team in the world," Agrawal said.

UTSA has developed a reputation nationwide as experts training computer and software engineers in open cloud computing and cybersecurity, Agrawal said. And this center further solidifies that reputation, he said.

"We are Cyber City and Cloud City USA," Agrawal said.

The center will do research and development on OpenStack, which is an operating system that runs on the cloud and enables all kinds of software applications to run quickly and seamlessly from online banking to e-commerce. The cloud is a term used to described computer servers linked together in data centers that contain information accessible to anyone, anywhere through the Internet.

Intel has invested in the OpenStack project, which it calls "Intel's Open Cloud for All" initiative although financial terms of the deal were not disclosed. It is also putting engineering resources behind the initiative. The New York Times recently did a story on Intel's strategy to invest heavily in software that enhances cloud-computing capabilities. The idea is to create many competitors who offer cloud computing services, which ultimately creates many customers who demand servers that run Intel's chips, and that way Intel will not get squeezed in price margins for its products by just a few giant companies, according to the article.

In July of 2010, Rackspace developed and launched OpenStack in cooperation with NASA. In the five years since then, OpenStack has grown considerably in popularity and other companies have exerted their influence on the software. HP, IBM and other big firms came in and contributed to the project. And the software got bogged down in bureaucracy and fragmentation as many companies contributed to it, Hanson with Rackspace said. This new initiative is about accelerating OpenStack development and adoption, Hanson said.

"We're trying to create an environment where people are fully committed to improving OpenStack and doing it in a fully opened source way," Hanson said.

"OpenStack is becoming the de facto cloud operating system for enterprises," Hanson said. Enterprise is the name for large companies.

Amazon Web Services, Google Cloud are closed and proprietary platforms that compete with OpenStack, an open source alternatives to those services.

Intel and Rackspace's collaboration seeks to make OpenStack the best operating system for the public and private cloud, Hanson said.

"For companies, the promise of OpenStack is that it gives them a platform that allows them to be much more efficient, much more nimble and it really improves speed to market for their customer facing and revenue generating applications," Hanson said. "It gives them a really flexible and efficient platform where the IT department can go from being a call center to a center of strategy and to an enabler of revenue."

By LAURA LOREK