By SUSAN LAHEY
Reporter with Silicon Hills News
What is it about the 16th floor?
Atlassian cut the ribbon on a 75,000 square foot space on the 16th floor of the new Colorado Towers Thursday night. With panoramic views and a balcony that looks out on Lake Austin, it will host the 120 new employees Atlassian hopes to hire in 2015 to add to the 150 it hired since its arrival.
That will bring it close to the 300 that was reportedly expected when the company opened its Austin office a year ago.
The Austin office is a global engineering hub for HipChat which is one of the company's fastest-growing products, and most of the hires will be in software engineering and technical support The new space was also designed to be a community hub for local tech events and meet-ups.
Company president Jay Simons said when Atlassian was looking for cities where it could find software talent for its suite of collaboration tools, Austin won them over partly because "We're a quirky, unusual company and Austin felt like home to us. We care a lot about culture and we care a lot about hiring people who are additive to the chemistry…we saw people who are like us here."
Atlassian, founded 13 years ago in Australia, is a bootstrapped company with a DIY business model that's unusual in enterprise software. Companies can download it themselves from the Internet and have unlimited users. Currently the company has two floors in the Colorado Towers but Simons said, with Atlassian's rate of growth it expects to be opening a new space within the year. The company announced a 44 percent revenue increase to $215 million in September and was named Australia's Best Place to Work by Great Place to Work.com. It has nearly 50,000 organizational clients including Citigroup, eBay, Coca-Cola, Tesla, Twilio and NASA.
The company gives one percent of its profits to charity, offers vacation time to employees for volunteer work and stands by its five values which include:
• Open company, no bullshit
• Play as a team
• Build with Heart and Balance
• Don't Fuck the Customer
• Be the Change You Seek
The company also has a day called Ship It every quarter that begins on a Thursday afternoon in which employees can work on any project they like. It doesn't have to be connected to work, but it can be. Employees have to create a "Shipping Order" to describe what they plan to do and have it done by Friday afternoon.
Simons told of one project that involved fixing all the office chairs. Because of a weak coating on the office chair arms, every time someone slid his chair under his desk it would get scratched and in no time the brand new chairs were battered and crappy looking. The manufacturer's only solution was to lock the chairs at a certain height so they didn't scrape against the desks. This, as one might imagine, was not a popular solution. After three years, for one Ship It day, a couple employees took apart a chair, figured out how to unlock them and unlocked all the chairs in the office.
The response, Simons said, was "Thank you! That was the best project ever."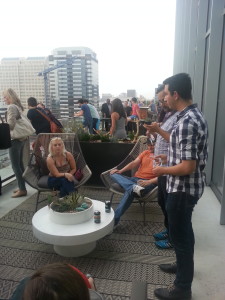 The culture fit makes Austin an ideal hub for HipChat since, the private chat service is a culture driver, Simons said. "Hipchat is a culture spreader. If you look at how teams use it there are memes and inside jokes and all these warm and fuzzy references to people," he said. "One of the reasons people love using the product is they say 'Our team got stronger when started communicating this way.'"