By JAIME NETZER
Reporter with Silicon Hills News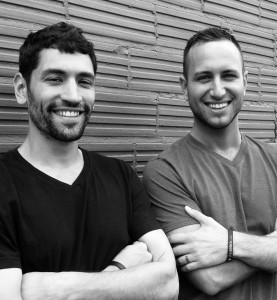 The word "disrupt" has become a start-up buzzword, but The Zebra COO and cofounder Joshua Dziabiak says it's overused, and he's not always sold when he hears it. "I don't know if I ever really buy most of it," he explains. But when Dziabiak, already the successful founder and CEO of ShowClix, saw Adam Lyons give the pitch for The Zebra, he was convinced. The venture, a digital auto insurance agency that lets consumers compare unbiased quotes in real time from more than 200 carriers, could do more than disrupt the insurance business: It could turn it on its head.
"The industry is ripe for a modern tool like The Zebra," Dziabiak says. The mechanics are straightforward enough. The Zebra uses state insurance filing data to replicate insurance company models and estimate rates within a few dollars accuracy. "We were able to do something no one else has done before, by combining all of the different companies on one platform," explains Adam Lyons, co-founder and CEO of the Austin-based company. The result is something new, too: transparency in the insurance industry.
Lyons and Dziabiak are both young, and the East Austin warehouse where The Zebra does its work boasts a mural on one wall and a buzzing energy that's far from corporate. Though they're selling insurance, which Dziabiak and Lyons say is a "stodgy, old, old money business," The Zebra wants to inject a new set of descriptors to the conversation. "We want to throw 'sexy' into that," Dziabiak says. "We want to throw 'rebel,' and 'easy.'"
They explain that in 2014, consumers now expect to be able to make informed decisions about their purchases online, even from their phones. Sites like Kayak make this possible for air travel, but the insurance industry was missing an equivalent. Sites that claimed to, Lyons says, only compared a few, and still required consumers to fill out extensive questionnaires and provide contact information. "What happens is you get done, [the site] just says someone will contact you shortly," Lyons says. "Then your phone gets blown up, your inbox gets flooded, and you never got anything." As for companies like Geico? "Companies spend hundreds of millions of dollars marketing and saying you can go to their site and save, but that's the equivalent of going directly to American Airlines and asking them to find you the best fare," Lyons says.
The company has caught early attention from big name investors, including Mark Cuban, Austin's Silverton Partners, and Simon Nixon, UK tech entrepreneur and owner of juggernaut comparison site Moneysupermarket.com. In Austin since last year, The Zebra held its national launch party in December of 2013. They're now licensed in all 50 states—and D.C., too. Morgan Flager, Partner at Silverton Partners, says the ambition of The Zebra's vision is part of what drew him to the company. "This is the company where, if they're successful, it's going to put Austin on the map," Flager says. "It would become a consumer Internet town as well, and that would be pretty exciting."
Early returns look good for The Zebra. Using the site, customer Chiko Barnabas Abengowe, who owns Perfect Staffing Solutions in Austin, found that he was overpaying on his car insurance by nearly $80. "I love it," Abengowe says. "I love that it's smooth, it's easy, and I just like how it has the whole breakdown and compares other insurance right on there." Abengowe adds that often employees will ask his company for auto insurance recommendations, and that he wouldn't hesitate to send them to The Zebra. "I'll definitely mention it if they're looking," he says.
With website traffic increasing, The Zebra is expanding, hiring insurance agents, a project manager, and software engineers. Find more at www.thezebra.com.