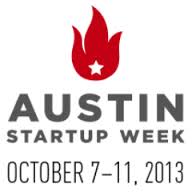 Austin Startup Week kicks off Monday and runs through Friday and it's the biggest one yet.
Along with all the festivities celebrating startups, the Captivate Conference kicked off Sunday and South by Southwest Eco begins on Monday. Both have sessions and talks geared to technology startups.
Jacqueline Hughes and Josh Baer created the first Austin Startup Week in 2011 and it has grown steadily every year with new events like the Battle of the Bands and old favorites like the Austin Startup Crawl and Austin Startup Bazaar.
On Monday night, Ricardo Sanchez will host the largest Co-founders Meetup ever. He has more than 130 signed up to watch 12 pitches from The TechMap, Radvocacy, TeleCog, Freedom Family Ranches, Musiqmatrix, Zaplink, Taplet, Kindery, TaskTrak, Culture Booster, Aland Decision and Scribe Sense.
The Austin Technology Council hosts the first ever Battle of the Bands Monday night at Mohawk starting at 7 p.m. featuring bands from local startups.
For a full list of events, check out the Austin Startup Week website.