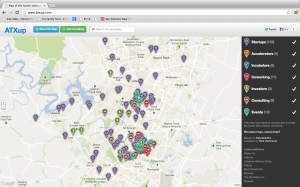 There's a new map in town: ATXup.
Nick Hammond, an Austin-based software developer, created the map using an open source program called RepresentMap. Other startup communities worldwide are using the same program to map their emerging tech startup economies.
Some of the latest additions to the map include: Nitero Inc., Trails.by, Longhorn Startup Camp, Clay.io, Main Street Hub, Basanty, The Radio Box Inc. and Mososh. The map has more than 130 startups listed along with incubators, accelerators, coworking sites, investors and events.
Any tech startup can submit a form to be included on the map. They've got them listed all the way to San Marcos and Canyon Lake.
But the ATXup map isn't the first and only map in town.
Andy Keil and Andrew Berg curate the Startup Genome – Austin Map, which has more than 540 startups listed and 51 investors. It has filters that allow you to search by date founded, amount of money raised and number of employees.
Ricardo Sanchez, who runs the co-founders meetup, created the Austin Tech Map. His map, which he launched last year, has more than 360 startups listed, 12 service providers, 13 coworking spaces, 36 angels and VCs and more than 100 jobs listed.
And Bijoy Goswami, head of Bootstrap Austin, created this elaborate Mindmap of Austin's entrepreneurial tech scene. Goswami's map goes far beyond listing local startups. He links to communities, universities, lifestyle, funding sources and so much more.
And lastly, one of the oldest maps of the area's tech scene, is not a digital map, but a paper one from Silicon Maps. It's a map of Silicon Hills and it lists mainly established technology companies like Dell, IBM and eBay that can afford to pay more than $1,000 to get listed on its map.