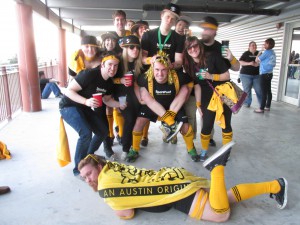 SpareFoot took home gold in the third Austin Startup Games on Saturday.
"Last year in the winter games we took home bronze and then last summer we took home silver," said Chuck Gordon, SpareFoot co-founder and CEO. "So it was our destiny today to get gold."
SpareFoot competed against 15 other startup teams in game such as Ping Pong, Foosball, Flip Cup, Pop-a-Shot, Darts, Shuffleboard, Connect Four and Trivia. The mystery event was bull riding.
About 800 people including athletes and spectators turned out for the day-long event held at Austin City Limits downtown. The event raised money for a variety of charities and canned goods for the Capital the Capital Area Food Bank.
U-Ship claimed Silver and Spiceworks got the Bronze.
SpareFoot will receive $30,000 to donate to its charity, Kure It Cancer Research. uShip will receive $15,000 for Communities in Schools and Spiceworks will receive $3,000 for the ALS Association. Each startup receives a donation to give to their charity, said Gillian Wilson, president of the Austin Startup Games, which is a 501-C3 nonprofit organization.
This is the third time the Startup Games has been held and it's doubled in size from the first games last year, Wilson said.
"The whole idea startup up because we love Ping Pong, we love playing beer pong and we wanted to see if other startups did too," said Wilson, who works at uShip.