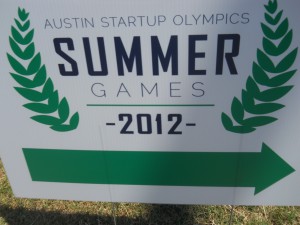 BuildASign won the first ever Austin Startup Olympics Summer Games.
The company, co-founded by Dan Graham, received a $10,000 prize to donate to its charity of choice.
BuildASign chose Austin Pro Bono, a nonprofit that connects lawyers and other professionals to nonprofit organizations.
"SpareFoot took home the silver this year, earning $5,000 for Kure It Cancer Research. Our charity of choice was founded by a self-storage business operator to support kidney cancer research," according to the company's blog post. Adlucent earned the Bronze, finishing in third place. It earned money for Austin Pets Alive.
The other startup teams participating each won $500 to donate to their designated charities. Boundless Network designated Capital Area Food Bank; uShip picked Communities in Schools of Central Texas; Spredfast selected Entrepreneurs Foundation of Central Texas; Mass Relevance selected Austin Children's Shelter and WhaleShark designated Austin Children's Museum.
uShip won the Startup Olympics Winter Games held last January at its headquarters.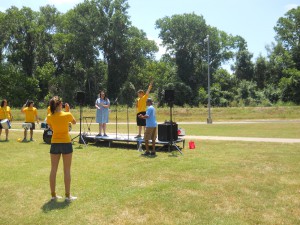 The Summer Games kicked off shortly after noon on Saturday at the Krieg Softball Complex with the running of the torch by uShip's Co-Founder Jay Manickam, which Sparefoot's Co-Founder Chuck Gordon received on a podium. After the singing of the Star Spangled Banner, Gordon released about a dozen white doves to a cheering crowd and announced the official beginning of the games.
Adlucent won the first event, the 400 yard relay followed by BuildASign and uShip.
Altogether, the games consisted of seven events: kickball, tetherball, tug-of-war, basketball, the relay sprint, 400 meter sprint and the advance sprint which consisted of a relay team performing various tasks including dizzy bat, egg and spoon race, sack race and the three legged race.

"These games are a lot more competitive," said Geni Glynn, spokeswoman with Sparefoot, who helped organize the games. She was comparing the summer games to the winter games which raised $2,300 for charity. This time, a lot more prize money for charity was at stake.
In fact, Sparefoot had rules for its competitors such as no alcohol until after the competition, Glynn said. Sparefoot also had to contend with much larger teams. Sparefoot with 45 employees was the second smallest startup to compete. Mass Relevance with 35 employees was the smallest.
About 300 competitors and their supporters were expected to attend the games, Glynn said. She expected several hundred more for the after party that was held at the field around 6 p.m. at the end of the competition.
uShip, the defending champs, did not put any restrictions on its employees, said Manickam. He says the games started off as just a fun idea among some friends, but it quickly took off.
"There's a groundswell of support and a real interest among the startup teams in giving back to the community through charity and having fun together," he said.
The games embody the startup culture in Austin of camaraderie, competition, collaboration, hard work and giving back by supporting local charities, Manickam said.
"The ultimate goal is to make this a national competition," Manickam said. He envisions an annual Startup Olympics competition at South by Southwest with teams from other high-technology regions like Silicon Valley, Boston and New York. He's already received interest from other regions.
Austin Ventures, Consero, SVB Financial Group & Silicon Valley Bank, KHRG, Dos Equis and Deep Eddy Vodka sponsored the event. Dos Equis provided 300 cases of beer and Deep Eddy Vodka staff showed up in a classic Volkswagon Bus packed with Deep Eddy Vodka and Sweet Leaf Tea. With temperatures soaring well into the 90s, the refreshments provided many of the athletes with the sustenance they needed to compete.